Every country has its own unique and distinguished design style that sets it apart from other interiors worldwide. These interior design styles have also changed over the decades, creating a collage of individual interior design styles in every country.
We've collated our top picks for your bucket list of interiors to visit, taking you to Morocco and right across the world to America.
1. Hassan ll Mosque, Morocco 
Moroccan interiors are known for being extremely detailed and a celebration of colour. The Hassan ii Mosque is the perfect example of that.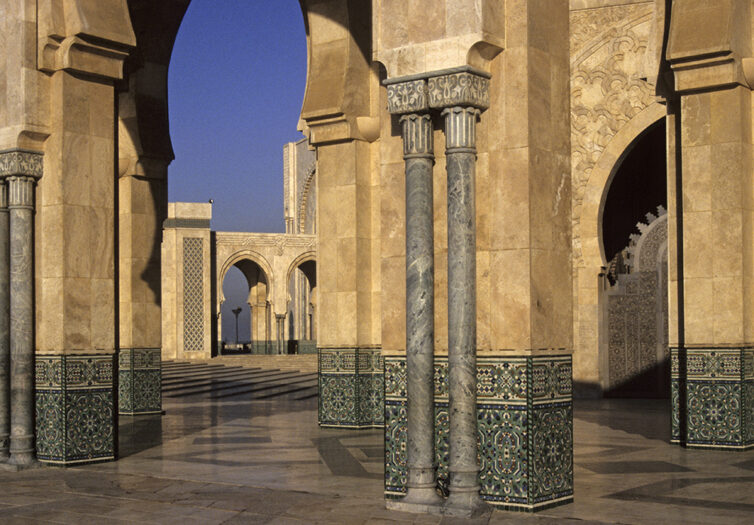 With its intricately carved patterns along the walls and pink granite structure encompassed by monumental brass and titanium gates. Even the bathroom is a marvel with lotus-shaped toilets carved from marble that was mined locally.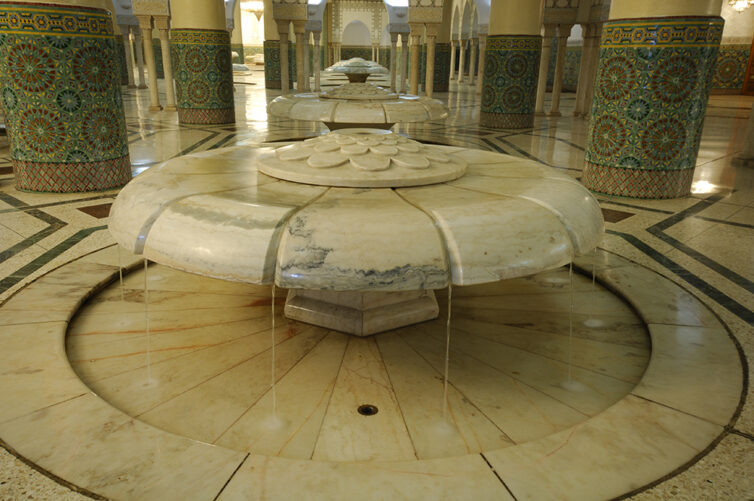 The mosque was completed in 1993, this Michel Pinseau design took six years to build and over 6000 craftsmen to complete. A definite must-see if you're in Morroco and have an appreciation for intricate interior design. 
2. Ait Benhaddou, Ouarzazate
This site is a UNESCO spot and represents the Moroccan southern desert architectural style. The entire structure is made of mud-brick and is dotted with small windows.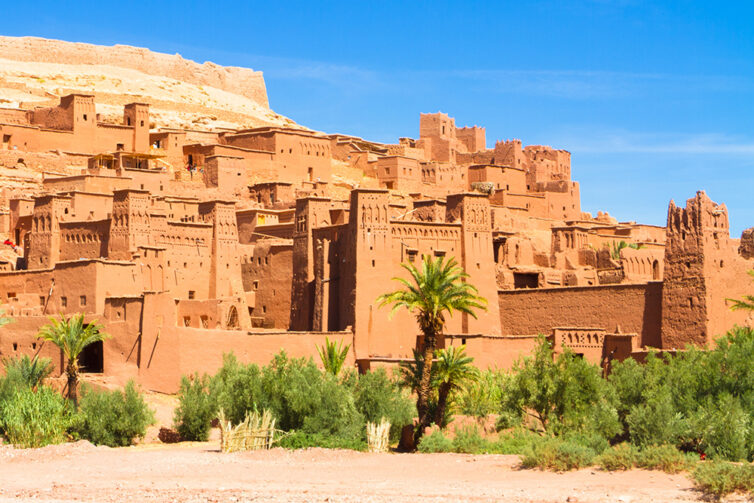 Unlike most other Moroccan buildings, this one lacks any symmetry, although the interiors are just as ornate and detailed as any other, with carvings done in clay and wood. 
3. Cărturești Carusel, Romania
In Romania, design and architecture are the perfect balance of ancient and contemporary. With interior designers incorporating the old architecture into modern designs, the country uniquely exhibits its history. Cărturești Carusel is one such example of how to marry the new with the old as the traditional and contemporary features complement each other perfectly.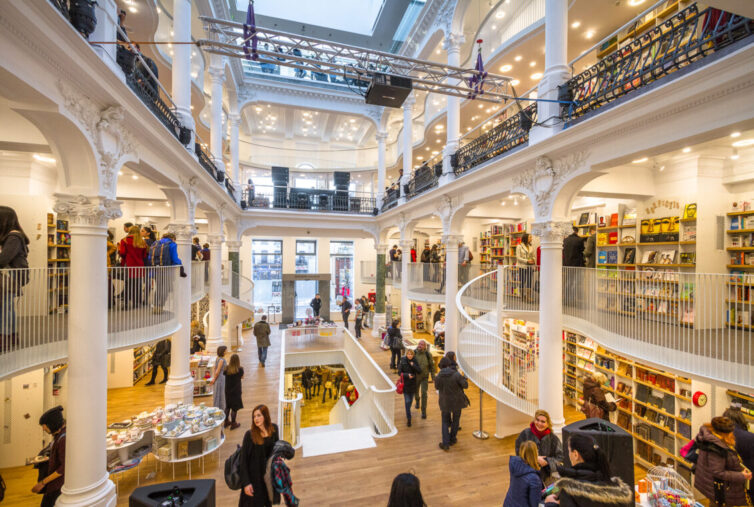 It is a 6 level structure designed to provide a space in which people can socialise, explore and create. This rehabilitated building has an art gallery, bistro and book store and is the perfect example of how Romanians celebrate their traditions in a modern way.
4. The Chapel at the Brion Tomb, Italy
You'll find one of the most fantastic interior spaces created in the last century in the beautiful countryside of Italy.
The Venetian architect Carlo Scarpa built this masterpiece over nine years and created a space that almost every design pilgrim dreams about visiting. His combination of glass, concrete and various other materials allowed him to create the most beautiful work of art right at the foot of the Dolomites in Italy.          
5. Sir John Soane Museum, United Kingdom
This site has been preserved for over 180 years and perfectly exhibits the home where John Soane once lived. Inside you'll find his extensive collection of artworks, sculptures and architectural models that Soane collected over the years.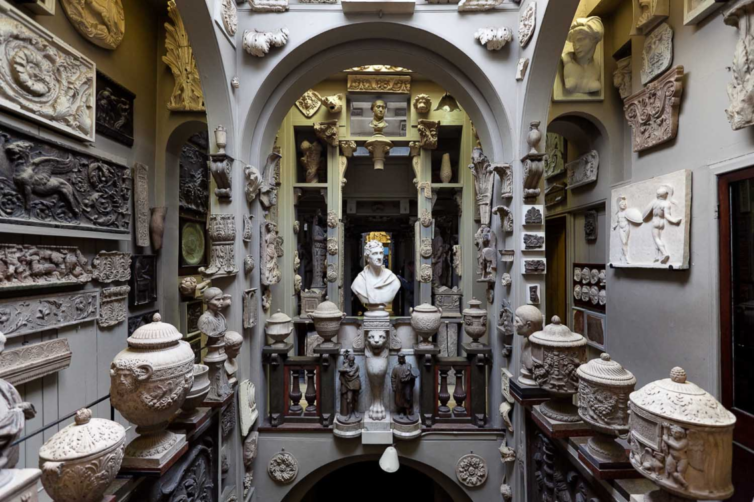 Nearly every inch of the space has been utilised for display, making for an overwhelming and awe-inspiring experience. Despite being advertised as a museum and the countless precious pieces displayed throughout the house, it still feels personal and has an almost homely feel. After all, this was Soane's home, and it's as if the pieces he collected tell his story. 
6. Louis Armstrong House Museum, New York
Louis Armstrong was outstanding at creating some incredible music, but what many might not know is that he also created one of the most stunning interiors. The home inhabited by the late singer and his wife Lucille is a hot pot of styles featuring some of the most futuristic designs, authentic Japanese features, and various other eclectic elements. The home gives an insight into the colourful mind of the musical genius himself.
7. High Great Chamber at Hardwick Hall, United Kingdom
Perhaps one of the most luxurious interiors to make it onto the list, the High Great Chamber is the best Elizabethan interior you will ever encounter. With outstanding examples of plasterwork, textile usage and architecture, this interior could keep one distracted for hours.
The large tapestries draped along the walls are almost outdone by the brilliant stucco forest piece that dominates the top section of the walls. The building is an impressive architectural piece representing the health, power and style that the owner Bess of Hardwick harboured. 
8. Can Lis, Mallorca, Spain
Can Lis is designed to blend in with the landscape. The structure is made up of local materials and features a very simplistic yet modern space that celebrates its surroundings by being as simple as possible to focus on nature's beauty instead. 
The 1971 building designed by Jørn Utzon is a unique and sophisticated piece that will remain timeless forever.
9. The African Meeting House, Massachusetts 
This church is a crucial piece of history as it is known as the oldest existing Black Church built by Black artisans during the abolition period. The interior and exterior does not only display the unique design style from that period, but also tells many people's struggle. The building teaches a powerful history lesson while walking along the creaking floorboards and looking at the golden yellow and white walls. 
10 Ceainăria Infinitea, Romania
This picturesque teahouse is an oasis in the middle of a bustling city. The classic Baroque decor sits in a beautiful summer garden where tea is served, and some of the most fantastic food is prepared. Enjoy classical jazz as you forget about all your worries in this little piece of paradise.
So that was our top 10 interior spaces that any design fan should visit in their lifetime. From the intricate designs of Moroccan mosques to the simplistic celebrations of nature found in Spain, interiors can tell a detailed story of the location they are set in and the events that have taken place.