Few interior design trends epitomise the relaxed and easy nature of your home quite like bohemian décor.
Are you artistic, adventurous or spiritual? Are you all of the above? If so this could be the style for you: Having bohemian touches throughout your house is a fantastic expression of your inner nature.
Over the past few years, boho-chic has returned as one of the most popular interior design trends around. Although, it's not exactly clear why that is. The bohemian style originated in the 13th century when groups of gypsies began to emigrate from India towards Europe.
It is because of this journey that most bohemian décor is heavily influenced by Indian and Moroccan themes and often appears well-travelled and mysterious.
A Room of Your Own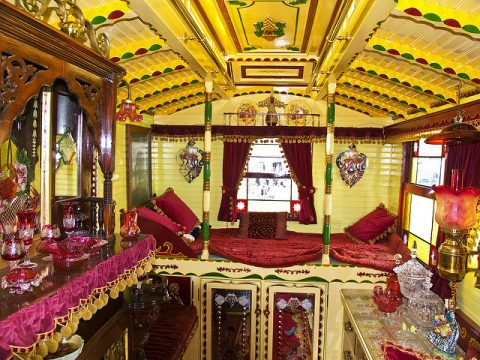 Image Source – traditional gypsy caravan interior
To this day, we can see other influences from the travelling gypsies in bohemian décor. Particularly similarities to their tarot reading rooms. These rooms have always been associated with peaceful, mystic vibes and, by embracing the style, you too can bring the same ambience to your home.
Many bohemian décor enthusiasts feel so inspired by tarot rooms that they even bring cards and decks into their home to compliment the existing themes and nurture a happy household. For example, bringing the Three of Wands card into your home is thought to facilitate financial health and encourage rewards for hard work.
In the Cosmic Tarot deck, cards feature a woman reaching for the sun surrounded by lotus flowers and staffs – an image that is sure to look wonderful as a piece of wall art. The Ten of Cups is another tarot card that will help keep your home harmonious; it promotes happiness, marriage and alignment.
Most versions of this card feature a rainbow, so if you want to add some colour to your room this is the card to put up. Make sure your cards are upright though, or they'll mean the exact opposite and nobody wants that.
Furniture & Fabrics
Image Source
Another element of bohemian décor that is lifted straight from the gypsy culture is the vast array of eastern fabrics and patterns. In any other context a mixture of silk mandala tapestries and orange Moroccan cushions would look slightly odd.
But, in bohemian décor if you like something you can make it work. This rhetoric extends to vintage items such as old books, picture frames and mismatched shelves. Any material can be brought in to create a warm, eclectic sanctuary with eastern influences.
To further amplify the eastern den atmosphere, light should be shaded and muted as though the sun is shining through those mismatched fabrics. Usually, this means creating red, yellow and brown lighting although this isn't mandatory – many people enjoy a white, airy and open ambience.
Minimalist Bohemian – Don't Have To Go Overboard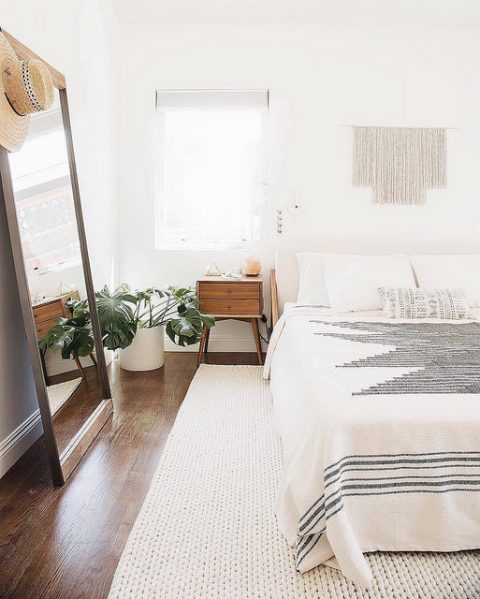 Image Source
Of course, as with almost every interior design trend, it is easy to go a little bit wrong when creating the perfect boho-home. The biggest mistake one can make when channelling the bohemian style is creating a thrift shop-esque aesthetic rather than a decadent, charming eastern shelter.
So, be sure to take a step back occasionally and assess whether your home looks like a Moroccan flea market rather than a bohemian paradise. I'm sure that your friends and family will help you with this anyway.
There you have it: all the basic rules about bohemian décor. Perhaps there are no rules when it comes to bohemian décor, only influences. At the end of the day, you get to decide what lighting, fabrics and wall art you want to use which is useful because you're the one who is going to live in it. Still, if you want more inspiration there's nothing wrong with searching for further ideas. And if there was ever a style that you can truly pick and choose from it is boho.
Main Image Source