Colour in 2019 is a TALE of EXTREMES. Opposites will most definitely attract as vivid brights combine with dark, moody colourways.
Matt and metallic finishes will also blend within rooms for dramatic yet balanced schemes.
Warmth is a key feature for colour next year; with warm undertones running through most colourways – even those at the cooler end of the spectrum.
In stark contrast, ice pastels are set to replace candy and chalky hues that have been popular in recent years.
Dark vs Bright
Dark and bright colours within this theme are intense and contrasting yet the overall look is harmonious.
Petrol blue, aubergine, black and deepest grey with a hints of warmth form dark monochromatic backgrounds that are enlivened by pops of vibrant colour.
Exotic jewel tones, spiced yellows and luxuriant metallics work particularly well.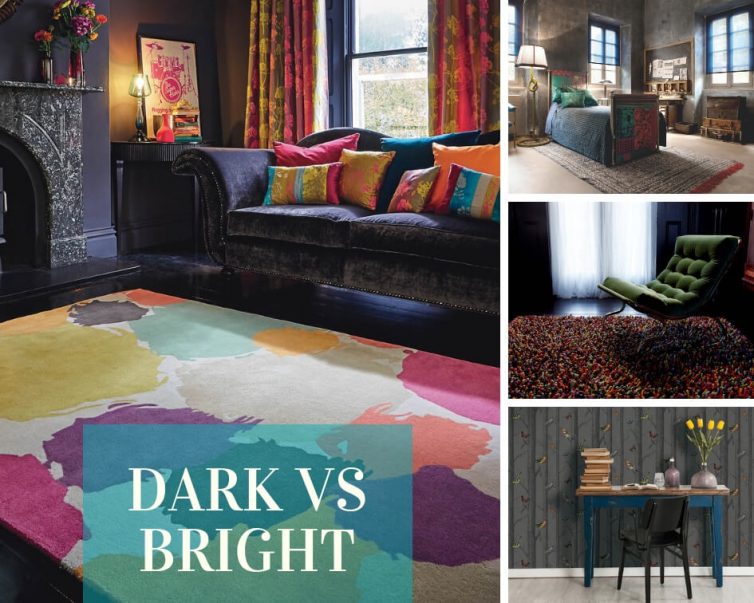 Paletto Berry Rug (from £415), Capital roller blinds by Apollo Blinds (Trafalgar),  Genie Multi-Coloured Rug (from £309.00), Forest Pattern Wallpaper with Birds and Butterfly (from £12.99).
Warm Neutrals vs Ice Pastels
Rich, warming colourways are a hot trend for 2019, when even the coolest of colours (blue and grey) carrying a warming undertones.
Grey, it appears, has finally had its day, making way for caramel, taupe and butterscotch base colours.
In contrast, pastel shades will take an icy turn, replacing the chalky and candy shades we've seen in recent years.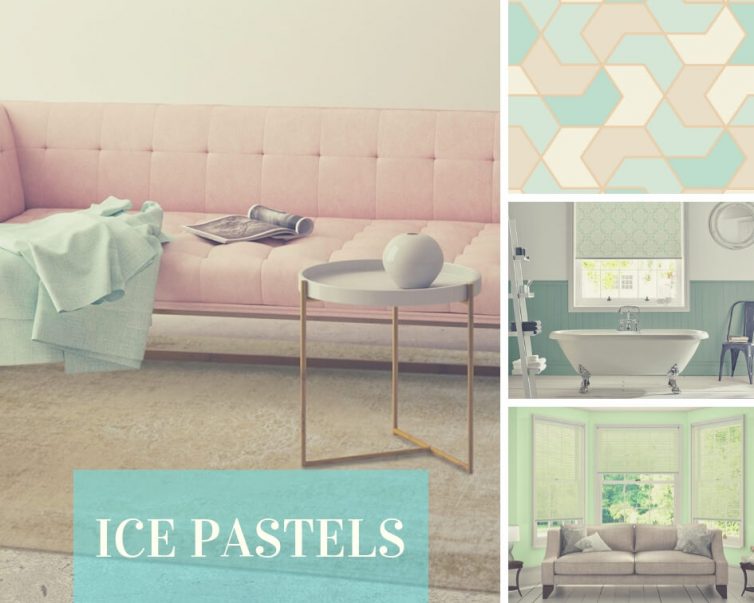 Products featured: Hex Wallpaper duck egg and gold – £9.99 per roll, Casablanca roller blind (from £78) Mint Green Venetian blinds by Style Studio priced from £81.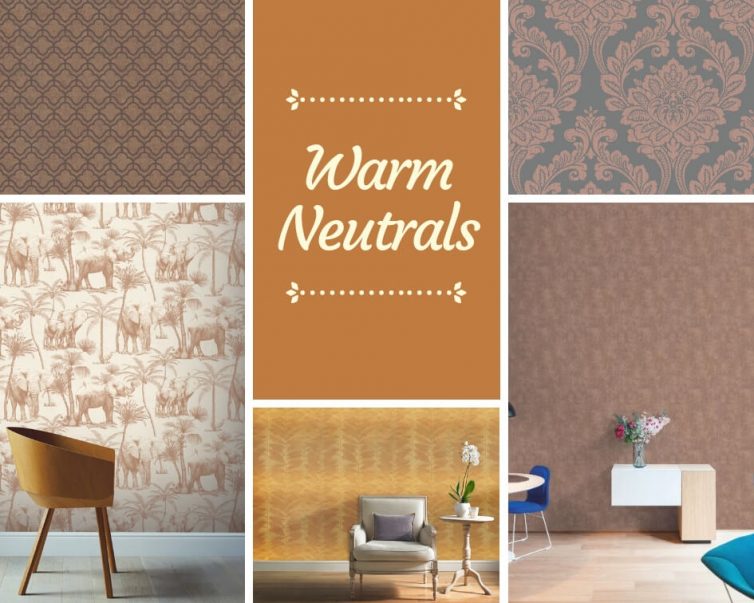 Products featured:  Orion Contemporary Faux Velvet – £13.99 per roll, Arthouse Astoria Damask – £8.99 per roll, Grandeco Orion Geometric – £14.99 per roll, Grandeco Botanical Leaf – £14.99 per roll, Grandeco Elephant Grove – £15.99 per roll and Holden Sparkle Star – £10.99 per roll from www.iwantwallpaper.co.uk
Colour Fades
Graduated colour effects have been re-imagined for 2019 to include more extreme colour transitions, as well as incorporating the progression from pattern to plain.
Rugs with block separations and shifts in colour weaved into the fabric are a great way to introduce the look.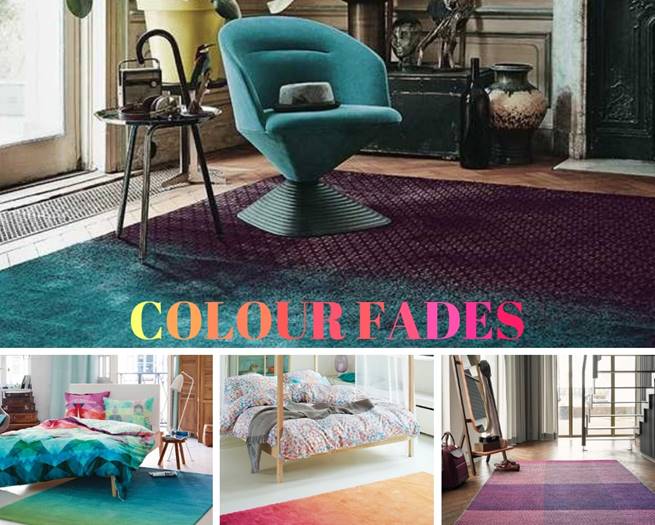 Paintbox rug by Bluebellgray in Teal (from £989), Espirit Sunrise Rug (from £139), Dipgeo Rug by Ted Baker in Rust (from £525), Dipgeo Rug by Ted Baker in Blue (from £525), Check Rug by Ted Baker in Burgundy (from £299)
Metallic Vs Matt
Metallics offer an enduring look for homes and can be updated in 2019 when juxtaposed with extreme matt finishes.
Textured surfaces are enhanced with metallic shine that adds to the multi-layered look.  2019's metallics aren't just limited to traditional golds, silver, brass and copper colourways – shimmering teal, pink and lilac will add further vibrancy to rooms.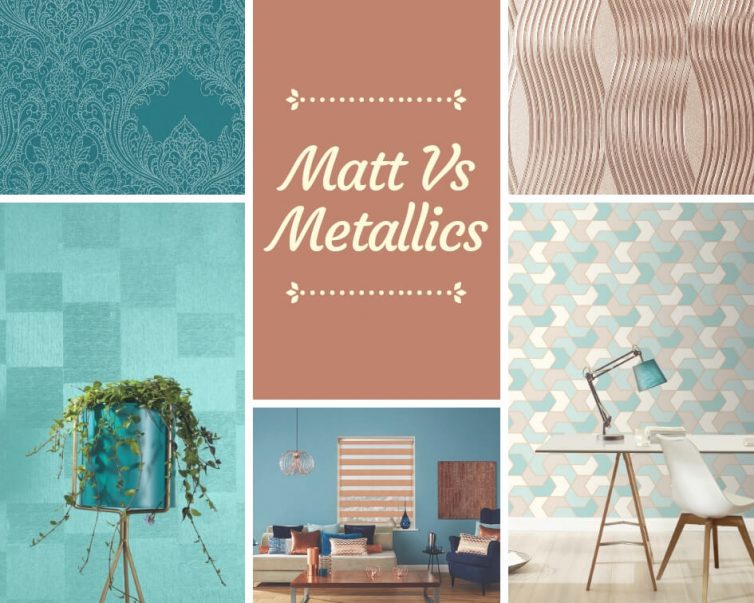 Katherine Carnaby Onslow Rug in Blue (from £539), Holden Leaf Patterened Metallic Wallpaper (from £23.99), Rose Gold Metallic Strip Textured Wallpaper (from £19.75), Indium Geometic Wallpaper (from £23.99), Pink Geometric Metalic Strip Wallpaper (from £11.99), Teal Floral Leaf Wallpaper (from £15.99).
For more interior design trends and goodness visit our interiors section or check out the homepage.