For many, knowing what lies behind the doors of Mayfair's most luxurious properties is of the utmost intrigue.
Recently crowned the winner of the SBID's International Design Award's for 'residential design over £1M,' this art deco, Grade Two listed penthouse duplex, known as 'Greybrook House,' provides insight into the world of luxury property, providing inspiration, aspiration and much more.
This impressive accolade was achieved by the team at Fenton Whelan, whose attention to detail ensured that original features and modern requirements were intertwined in an effective manner, showcasing exactly what a multimillion pound penthouse should offer.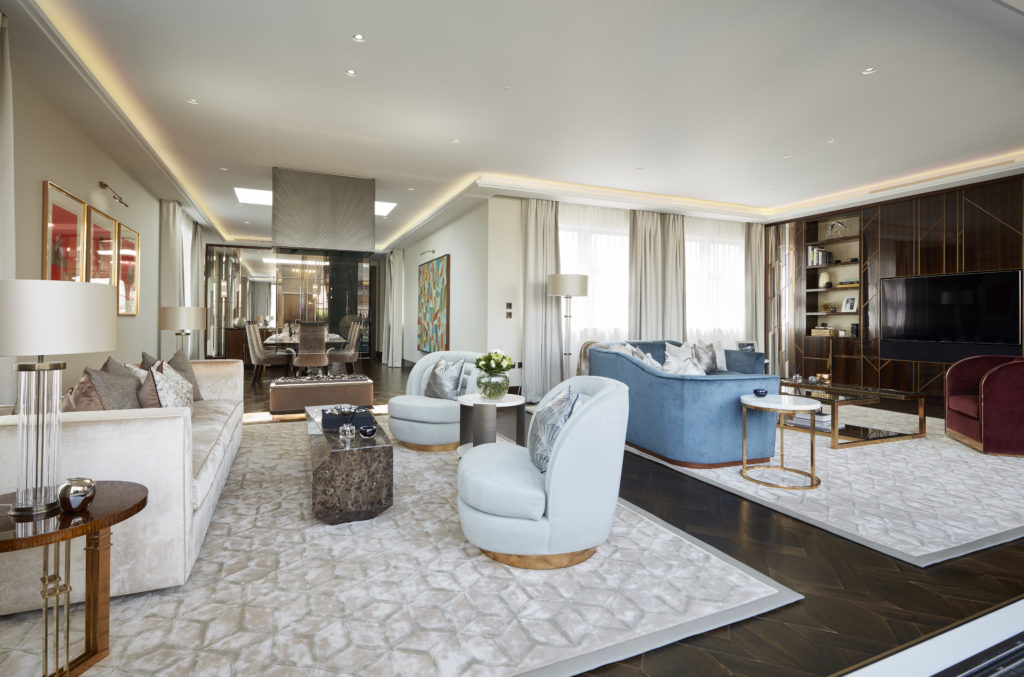 Situated in the heart of Mayfair, a postcode consistently renowned for its luxurious properties, this penthouse is a welcome addition to the market.
Leading property experts in the Mayfair area and agents for this sale, Wetherell commented
'It just shows that even when the property market in other areas may seem unpredictable, you can always be assured of world-class design and opportunities in Mayfair.'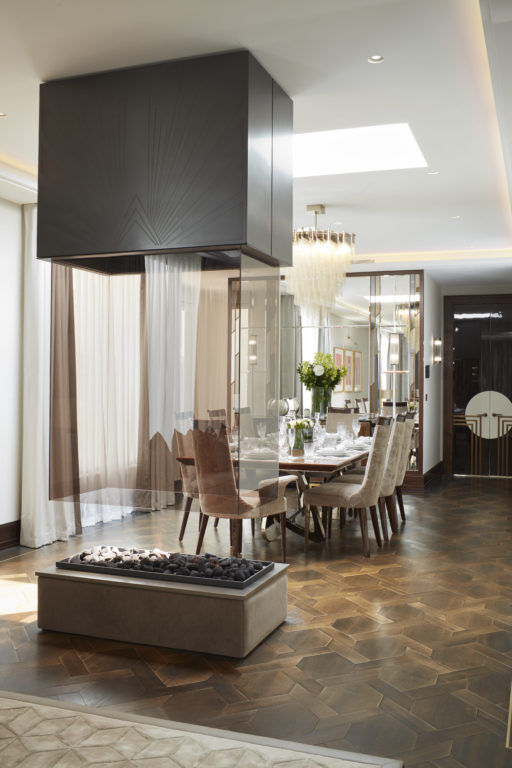 This boutique residential development makes an impact on entry, with bespoke furniture filling a comfortable, yet luxurious living area. A dramatic hanging bronze glass fireplace acts as a focal point within the room, whilst simultaneously providing a divide between the living and dining area.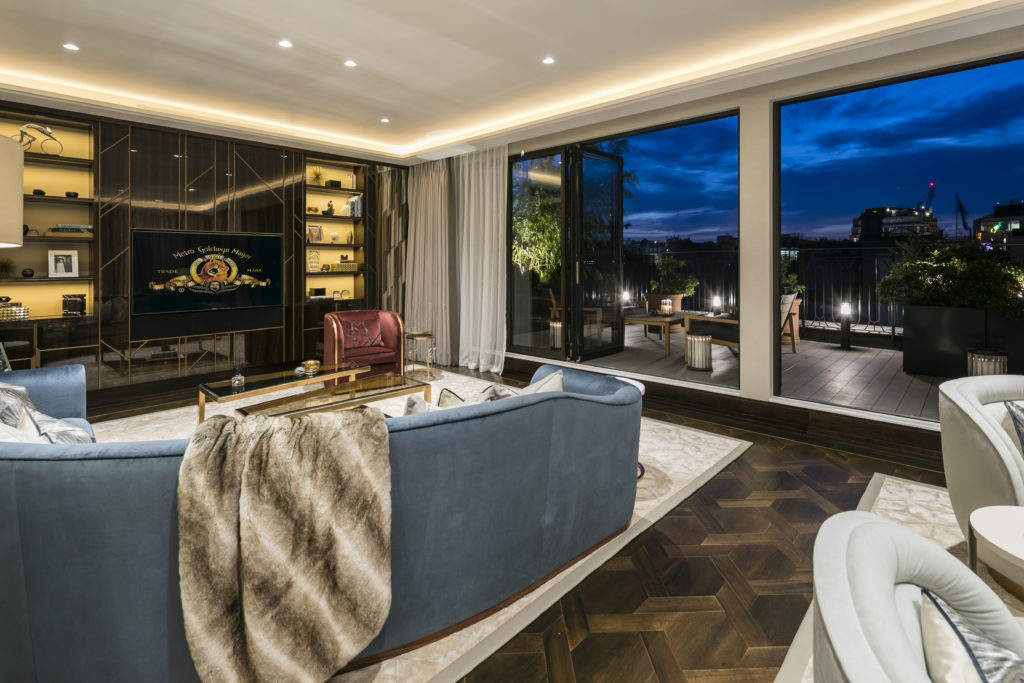 The space is flooded with natural light on account of large, steel-framed windows which allow access to a fully furnished terrace. Indoor-outdoor living continues to be a trend within luxury interiors and is particularly appealing in such central locations.
Designed with entertainment in mind, this property combines elements reminiscent of a 1930s cocktail club, with modern appliances.
Examples of this include a back-lit onyx cocktail bar, a plush vert de terre banqueting suite, bronze bulthaup cabinetry fitted with Gaggenau appliances and herringbone marble tiled flooring.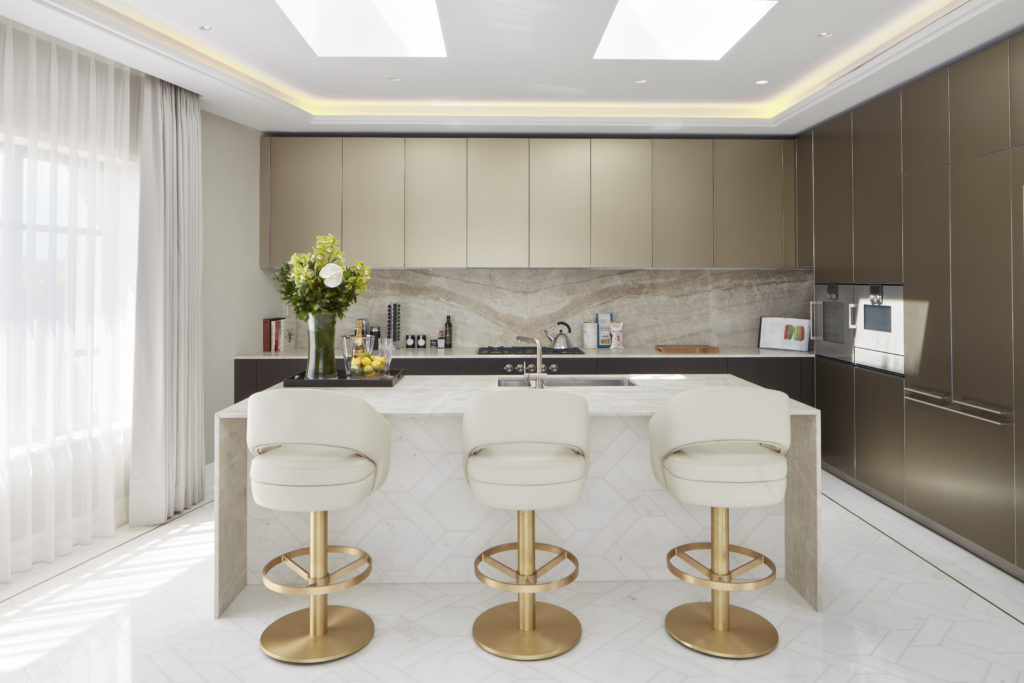 The focal point of the kitchen is its central island, fashioned with Taj Mahal marble and complimented by white upholstered, gold finish bar stools. The look and feel of the space is chic and sophisticated, yet fresh and contemporary.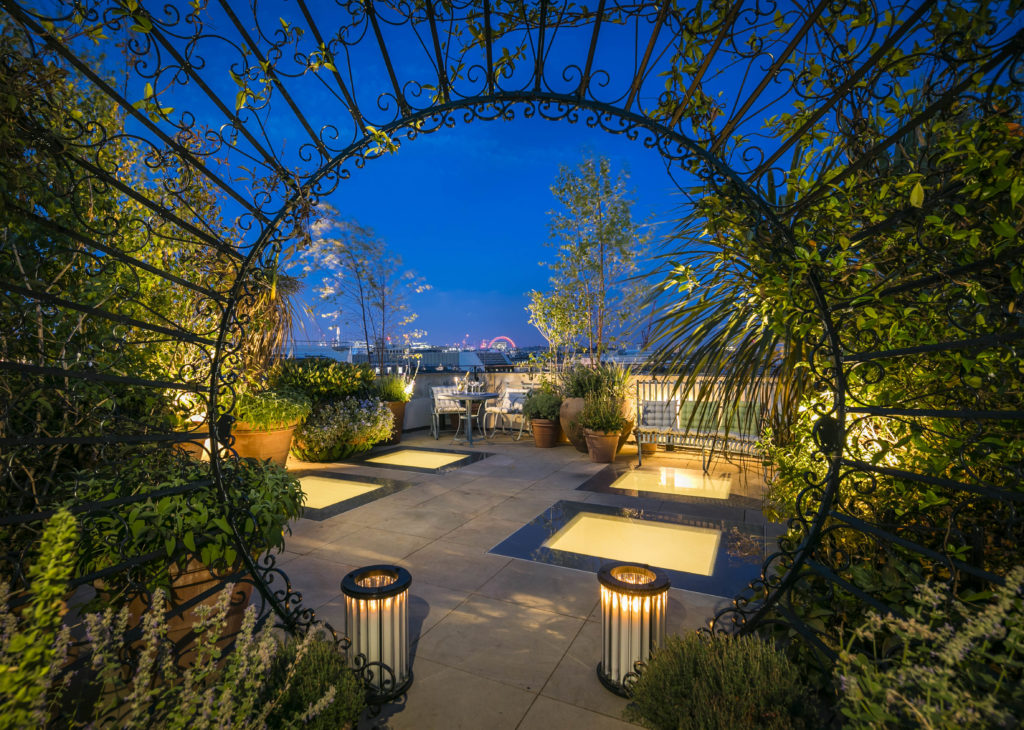 In keeping with the use of white marble throughout the property, a staircase leads to an impressive rooftop garden, complete with views of London's iconic skyline.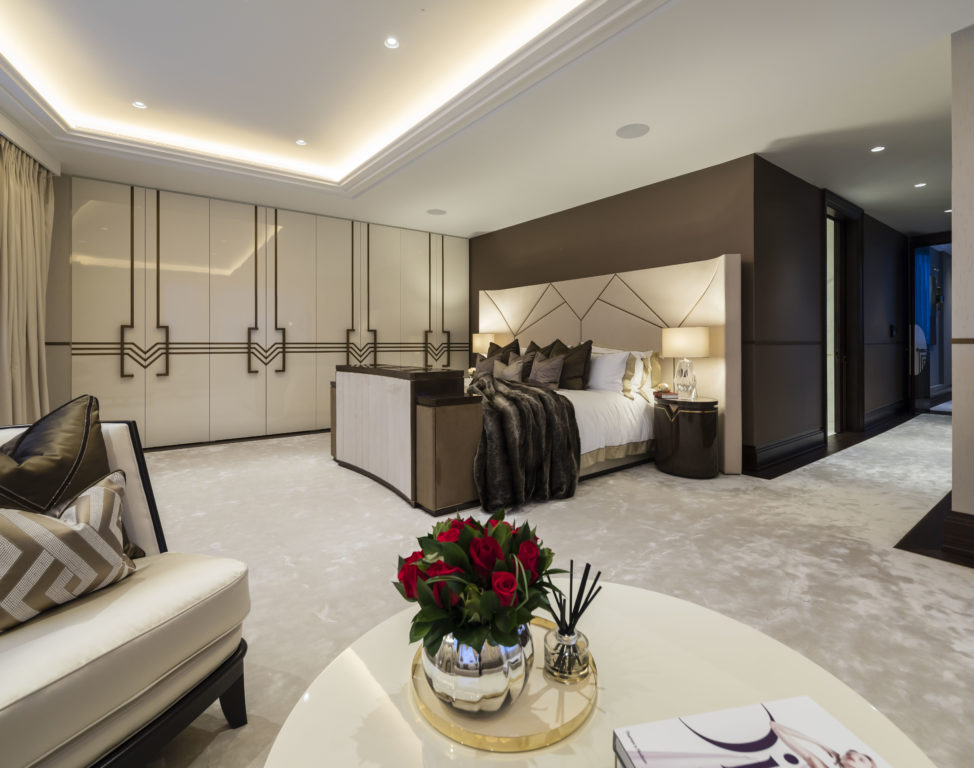 The master bedroom, set on the lower floor, is designed with relaxation and luxury in mind. The lacquered finish wardrobes are enhanced by an art-deco inspired finish, in keeping with the theme that runs throughout the property.
The spacious master bedroom boasts a large fully fitted dressing room and vanity. As throughout the property, the colour scheme is neutral.
The white marble floor of the master en-suite is complete with black and gold geometric shapes, which adds an extra dose of exuberance to the space, in addition, and match the patterned finish on the doors throughout the property.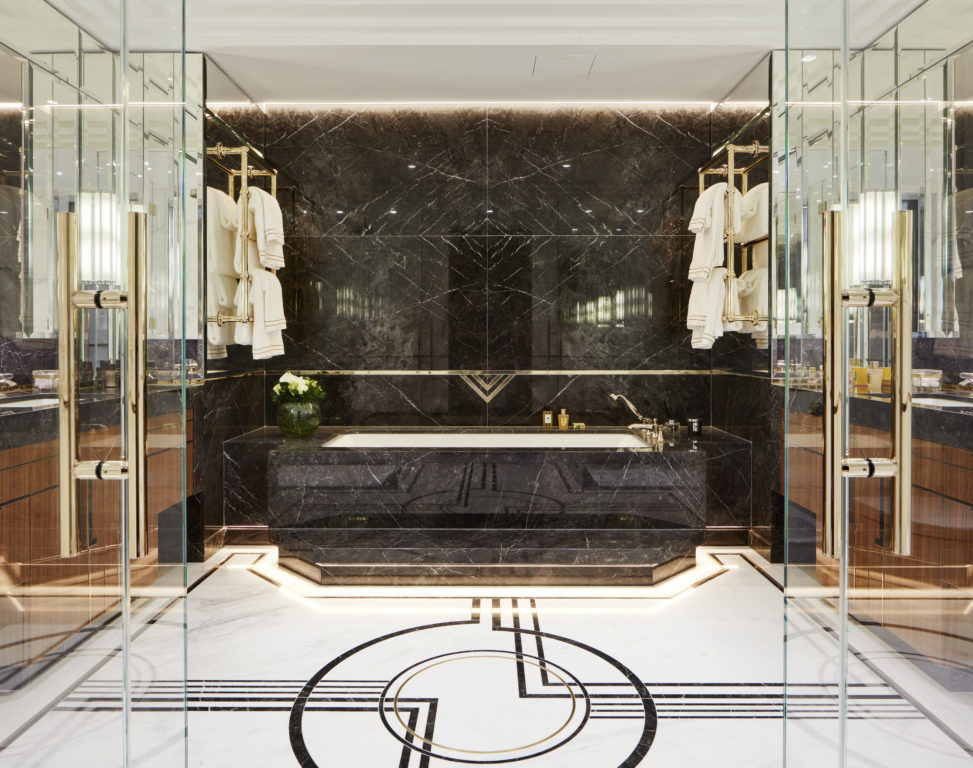 The black marble soaker bath is a striking centrepiece within the space, whilst black is often a difficult colour to use in a space that lacks natural light, it is successfully offset by the use of mirrored walls which bring light to the space and enable it to appear to be more spacious.
The property has an additional four bedrooms, each complete with upholstered headboards, book matched marble and bespoke joinery.