Making changes to your home and updating the design can often become very expensive.
Indeed, that is why many people have to take out loans or remortgage their properties. Considering that, we thought you could all benefit from some budget advice that is going to help you reduce spending.
How well these suggestions work in your home will depend on the amount of effort you exert. If you simply follow our ideas blindly, the results you get aren't going to be that amazing.
However, you could transform your property beyond all recognition if you use these concepts as part of a wider design strategy. For that reason, it is vital that you plan ahead and spend a long time working out the best ways forward.
Re-cover your sofas
An IKEA Klippan sofa cover and other products of that nature could improve your living room significantly. It doesn't cost much to give your sofa a new lease of life, and the concept could save you hundreds of dollars.
Buying a new suite simply doesn't make sense if the only issues are related to stubborn stains. You can keep them out of sight easily if you just shop around and get a suitable cover.
In most instances, you shouldn't have to spend more than around £40. So, make sure you take a look at some of the products available before breaking the bank for a new sofa.
Revamp your hallway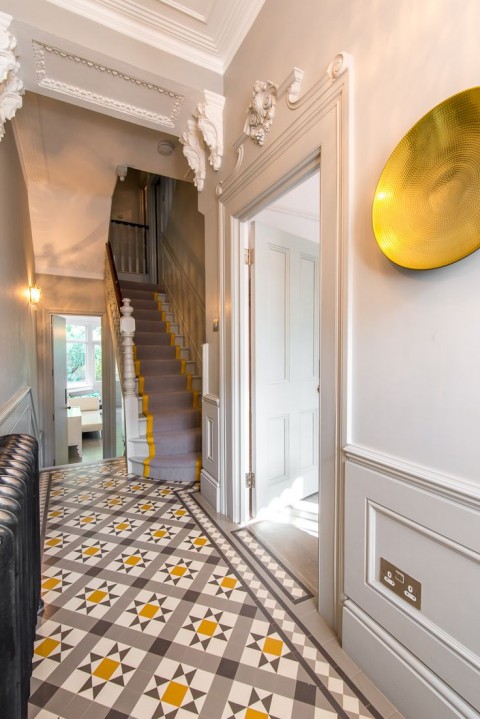 Image Source
When people arrive at your home, the hallway is the first place they encounter. So, it's wise to make it as upmarket and luxurious as possible. You can do that by changing the flooring solution in that area.
Whether you use carpet or laminate throughout the rest of your home matters little. Your hallway should be tiled for the best results. Slate is one of the most popular materials, but it can be rather expensive to buy.
With that in mind, you should check online auction websites for the best deals. Sometimes slate companies go out of business, and they have to sell their stock cheap to keep the authorities happy. So, it is more than possible that you will grab a bargain.
Alter your lighting solutions
As anyone who's ever run an art exhibition will tell you, lighting is everything. The way in which your home is illuminated at night could make a real change in how it is perceived.
Considering that, you should think about adding some spotlights in your kitchen and bathrooms. It is sensible to use lamps and dimmer switches in your lounge to ensure you can create the best possible atmosphere.
Sometimes you will want that room a little lighter, and sometimes you will want it darker. Thankfully, it is easy to fit dimmer switches, and they don't require much investment.
The ideas you've just read might seem simple, but they are the best ways of modernising your home on a tight budget. We hope they make the perfect starting point for your renovation work.
Just make sure you don't rush into anything. There is no point in spending your entire wages to get everything sorted in a single weekend. These things take time.
Main Image Source