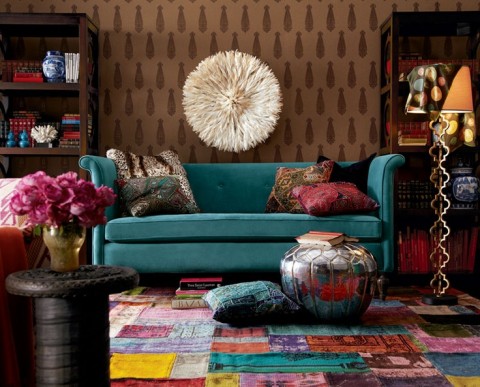 Tired of your lounge looking ordinary and dull? Fancy a change that is sumptuous and seasonal?
Revamp your living space in fabulous bohemian chic. It's a timeless and tasteful look that takes its inspiration from the souks and markets of Morocco.
It is the infinite magic carpet ride that is India. Bringing it into your home will add mystery and depth, warmth and passion. This room can be the heart of your house.
Floors
Think of your floors as a great blank canvas. The painting will be the fabulous rugs of the Orient. Choose from rag rugs to elaborate Middle Eastern style carpets.
The great thing is you can buy and unroll a carpet in minutes. You don't even need a single tack or nail.
These look great on any form of wooden flooring, but you could easily lay your magic carpet on top of a neutral shade existing carpet. These colourful and opulent rugs just about go with anything.
They'll be a feature of your home for years to come as they are so versatile. They age brilliantly.They look great in a bedroom too.
Furniture
There are some brilliant fair trade options out there now. Connect with an ethical retailer like ian snow whose range is eclectic and perfect for your new look.
Stools and chairs can be bought in. You can instantly change your staid old sofa for an exotic replacement by covering it with a fabulously colourful throw. Plus add gorgeous cushions for the classical look of the hareem!
Windows
Windows work well dressed with dark and deep colours. Use curtains with a lovely heavy wrought iron style curtain rail. These can be matched with wrought iron light fittings.
Bring in blinds to supplement the look and turn the lights down low. Other materials that work really well are copper and brass. They give off a lovely suffused glow when they reflect the light.
Candles and lights
Use lamps to create pools of light rather than lighting up the whole room. Quirky lampshades add effect to any standard lamp. These add to a sense of mystery and secret surprises.
Candles can be dramatic and the use of oversized candle holders makes a strong impression. These can be based around the over mantle or even placed in front of an unused fireplace.
Feature furniture
For a great look see if you can reclaim or get your hands on a wooden or antique metal chest. These make a fabulous feature that will also serve as coffee table or a place to put drinks.
Bargains can still be found in junk and secondhand shops. Use classic stressing techniques to get an instant shabby chic look. Floor cushions are just perfect for lying around on.
Let your inner hippie out
Your look calls for all those ornaments that you might have once drooled over in your hippie phase. Rather than letting clutter become you, focus on some feature oversize pots and vases.
Hang distressed picture frames on the wall, or simply use eclectic prints and pictures to add a little more sense of mystery and quirkiness.
Light up the incense burner and put on some suitable music. You'll have transported yourself into another world. It is one that is endlessly fascinating. It is a creative and endearing place that it will be a pleasure to curl up in.
Image Source