As we head into spring, we're looking forward to everything the season brings: warmer weather, brighter days, extended daylight hours and of course, an explosion of colour!
Why not take inspiration from nature this spring and bring a little light and life back into your home? Achieve this by choosing pretty pastels for your next renovation project. Think hints of minty green, a touch of blush pink, a little baby blue and maybe some pale yellow…
Baby pink and blue kitchen byWren Kitchens
Kitchen renovators, we have found the units of your dreams! Meet the Milano Contour Ermine, both pretty and sleek, this cabinet comes in an impressive range of colours! Choose from a total of 12 shades, including lots of pastels. In addition to the pink and blue tones pictured below, you'll also find apple fizz green, pina colada yellow, gummy bear purple and soft lavender.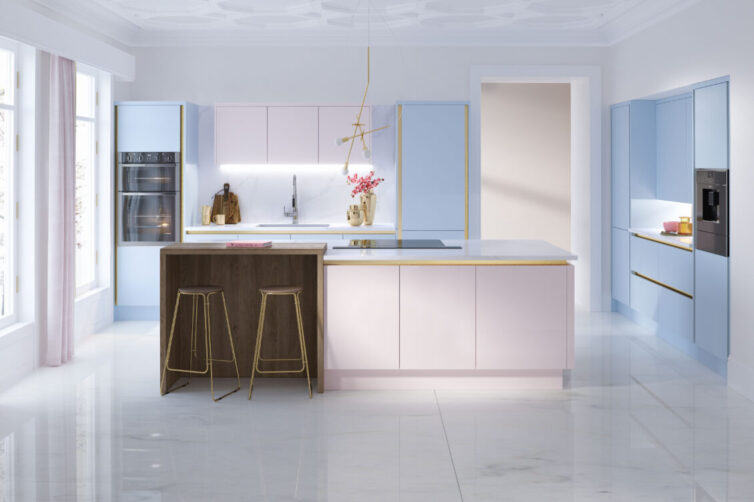 Light Pink Bath by Waters Baths of Ashbourne
Add a splash of colour to your bathroom with this beautifully curved pastel pink bath. Not a fan of pink? Don't worry, Waters of Ashbourne will paint your chosen bath in any one of its whopping 194 shades.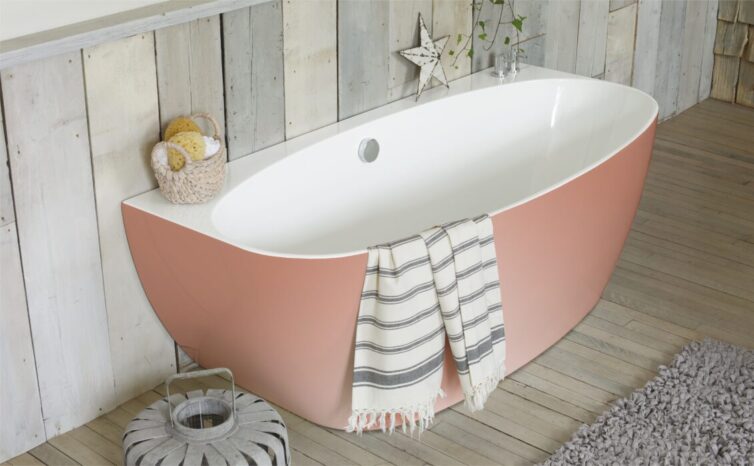 Polygon Pastel wallpaper by Wallsauce.com
This made-to-measure wallpaper mural from Wallsauce features soothing pastel geometric shapes. The blend of purples, yellows, greens and pinks will create a modern and dreamy look in any bedroom. In terms of decorating, you cannot go far wrong with this mural. Pick any one of its pastel shades to paint the surrounding walls. Use the rest of the colours for the accessories—lampshade, vase, rug etc. If you rent, you'll be happy to know Wallsauce also sell a "peel and stick" version of this mural too. Handy!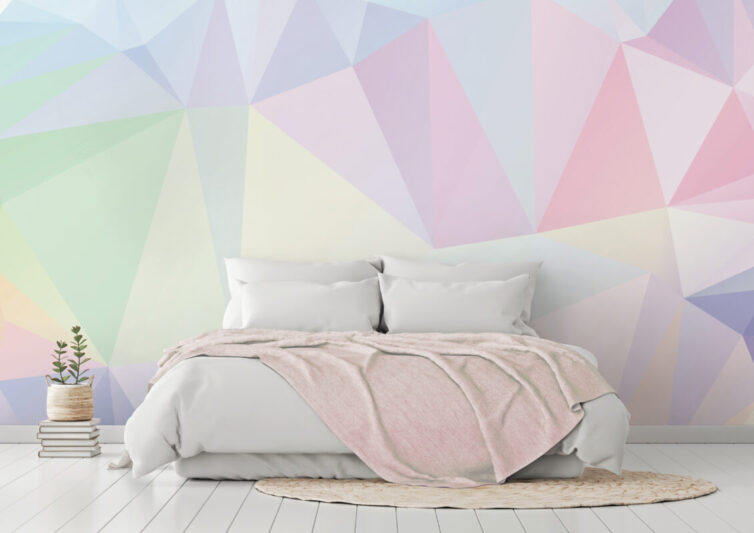 French Grey 200TC Cotton Bedding by Loom Last
Loom and Last's French linen bedding comes in an assortment of trendy, muted tones. Mix and match to recreate the tranquil look pictured below.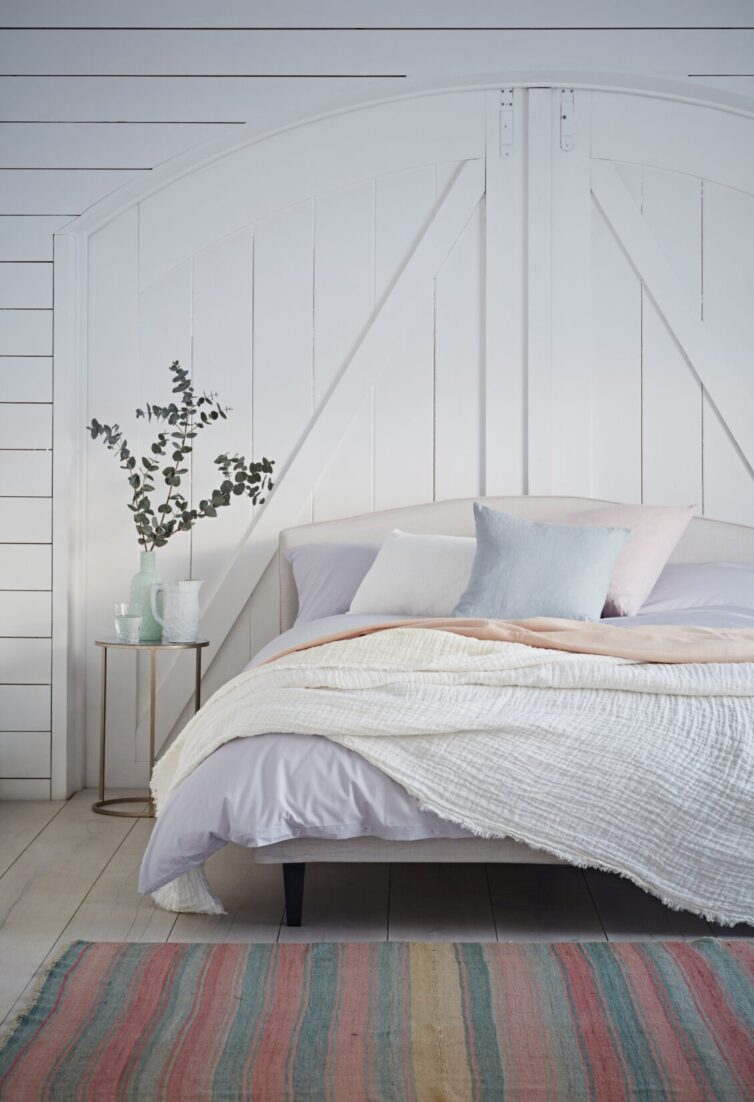 Pastel Pink Footstool by Homescapes Online
This candy pink pouffe footstool looks good enough to eat! It's handcrafted from 100% chunky cotton yarn. Homescapes Online sell this pouffe in 17 other colours, including pastel blue. Complete the look with one or more of their coordinating products. Choose from knitted storage baskets, floor cushions, throws and other footstools.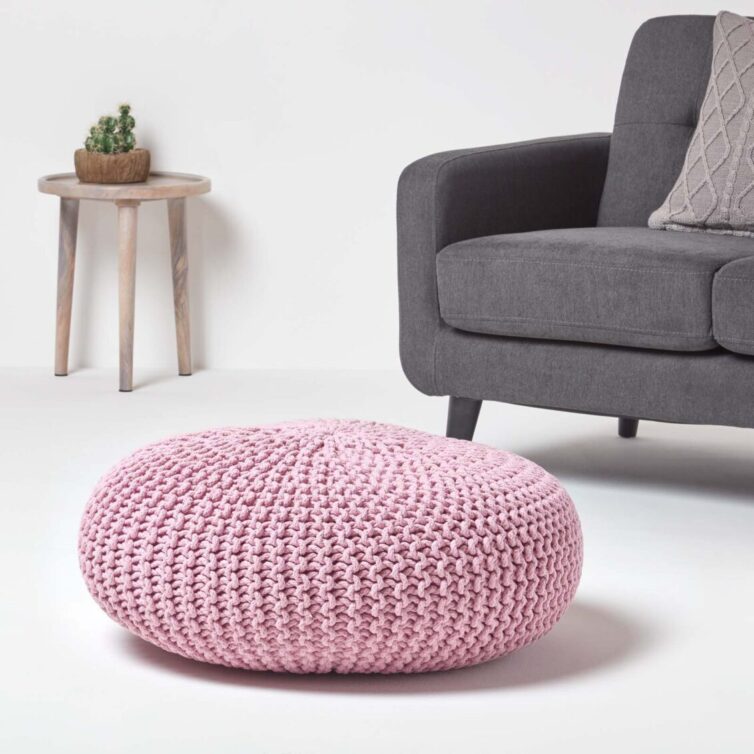 Pastel Chest of Drawers by Cuckooland
Decorating a nursery? Consider Cuckooland's Vox chest of drawers for your baby's room. The company sell the drawer fronts in six different pastel shades. The design marries a stylish retro feel with very modern colours. This ensures your nursery furniture will last baby into childhood and beyond! The smaller unit can be converted into a baby changing unit and the company sell coordinating furniture, including a cot.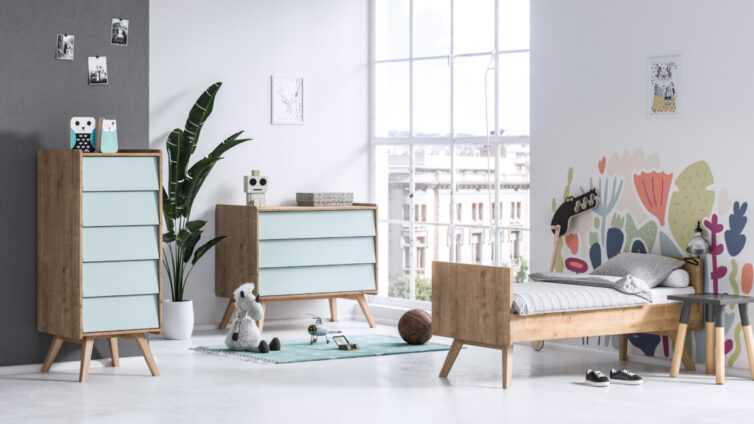 Pastel tableware by Easy Life
Bring a little cheer to your dining room this spring with Italian brand Easy Life's collection of contemporary tableware. It comes in six matching pastel colours, allowing you to mix and match to suit your space. Each cup, bowl and plate is hand-finished too. Bellissimo! Visit the company's website.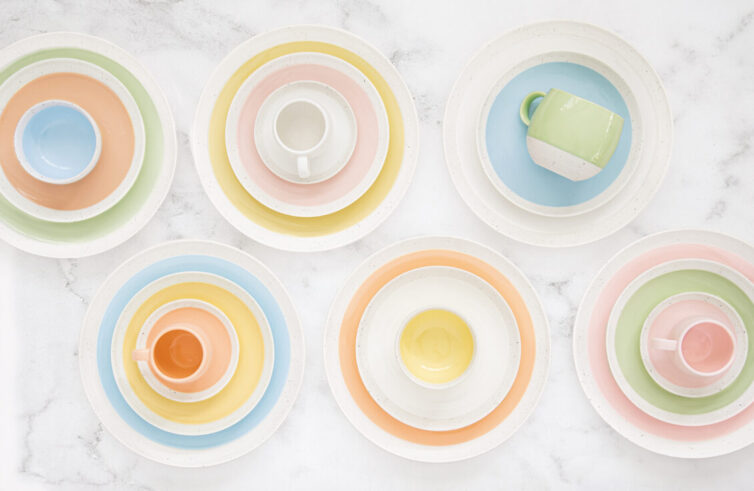 Featured image: a mood board featuring pastel floor tiles from Original Style's Victorian collection in Carnation Pink, Hawthorn Yellow and Spring Green.