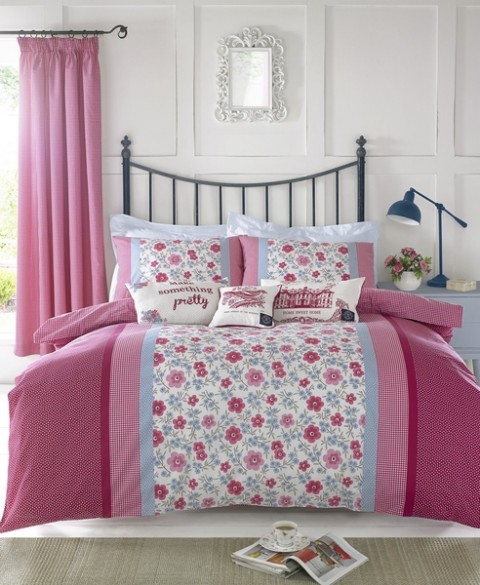 Property guru and popular TV presenter Kirstie Allsopp launches her latest Home Living Bedding Collection in September throughout the UK.
Her latest designs reflect her love of colour and antiques. To quote Kirstie: "I'm obsessed with a good looking bed."
There are 3 designs in the collection, namely LEOLA, GRACIE and HETTY; all come as quilt cover sets in single, double and king sizes, inclusive of housewife pillowcases. To create a good looking bedroom, Kirstie has also included matching curtains for each of the designs; all supplied complete with header tape, lined and ready to hang. So easy and so effortless.
HETTY bedding takes inspiration from vintage patchworks, combining bold floral and pretty ditsy pathces, capturing Kirstie's love of craft. In vibrant pinks and blues, HETTY is pefect for injecting a touch of colour into your bedroom. Complete the look with coordinating curtains and the delightful BELLA, LOUISA and BIRD cushions.
Influenced by Kirstie's passion for all things craft and vintage, GRACIE is a pretty design in shades of berry and lime that will brighten any bedroom. Dainty florals combined with written labels and illustrated craft essentials create this delightful design. The BELLA, LOUISA and BIRD cushions, together with coordinating curtains, complete the look.
LEOLA is a combination of bold flowers, ditsy polka dots and red gingham fused together to create this charming design. Coordinating country gingham curtains and cushions BELLA, LOUISA and BIRD add further charm.