Shoppers are looking deeper into their baskets.
During the first half of 2019, Veganism was on the uptake, thousands of people committed to using fewer single-use plastics and David Attenborough headlined Glastonbury. So, it's unsurprising to learn that consumer demand for products that are ethical, sustainable and eco-friendly is on the rise.
We expect to see this continue in the latter half of the year as shoppers look for items crafted from materials kinder to our planet and crafted by skilled artisans who are paid a fair wage.
Shopping for eco, ethical and sustainable products for your home? 
Below, you'll find several companies who share these same values.  We've shared a selection of our favourite recycled, eco, ethical and sustainable homeware products below.
1.  Chevron Mudcloth Cushions
We're just in love with the home accessories from Bohemia Design.  This gorgeous cushion is made from traditional Malian cotton that's been hand died and painted with fermented mud.  The cushion itself has been handsewn in Morocco.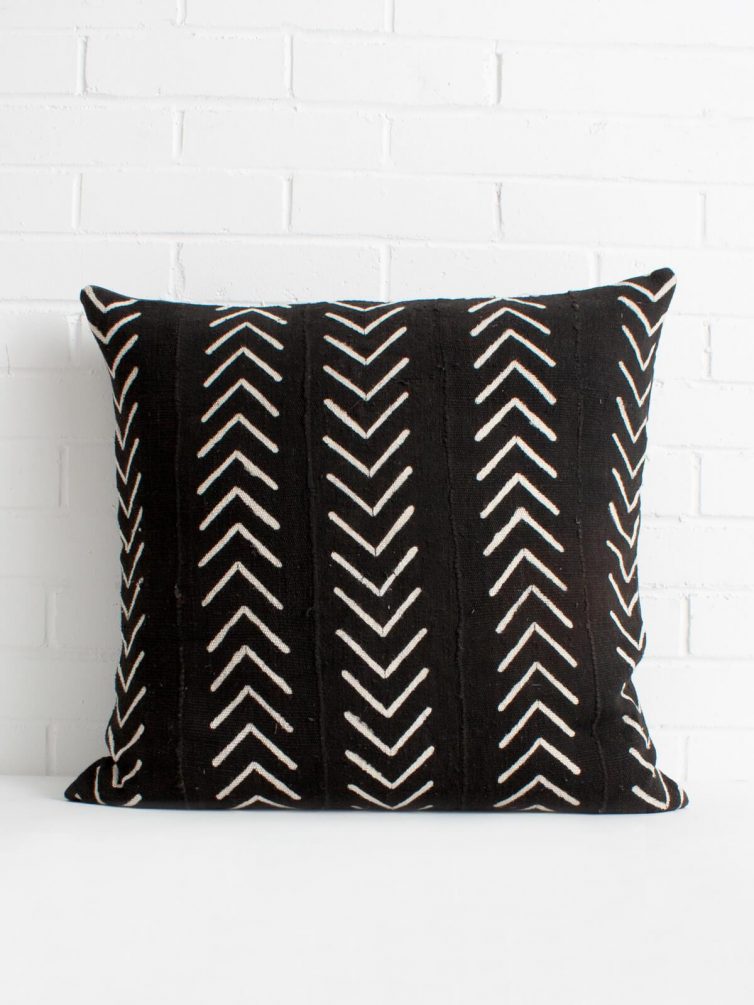 Bohemia Designs focuses on ethical homewares. The company partners with basket weavers, blanket weavers, wood craftsmen, traditional hand block printers and jewellers from India, Turkey and Morrocco.
The cushions featured above are priced between £55 – £75.  Shop now.
Recycled Paper Vases by Malulu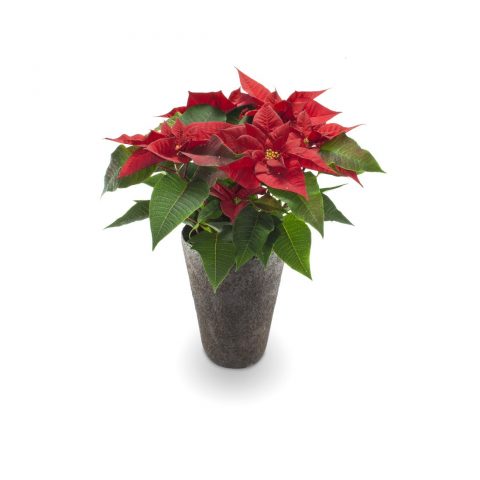 Maulu's skilled artisans create these vases using recycled paper, water and soil.  Then, they're 'baked' under the African sun, achieving a stone-like texture.  The vases are perfect for displaying a big bunch of flowers.
Malulu confirms its company provides fair working practices for all employees. Although the project started life as a European training Kenyan workers to create products to sell, Malulu is now run by a Kenyan woman who oversees all production, marketing and sales.
"With every purchase from Malulu, customers make their own positive contribution to the welfare of those living in deprived communities, giving them the confidence and pride to lift themselves out of poverty."Malulu
The company make homeware and lifestyle products designed to bring you a "flavour of Africa"
Purchase from Ethical Market for £15.
Tealight Candle Holder – Lola & Mawu
Skilled Malian artisans create these stunning candleholders exclusively for Lola and Mawu.  Each candle holder is unique.  They're handcrafted from wood and metal, then embossed with traditional West African geometrical designs.  Each candle holder is ethically made and fair trade.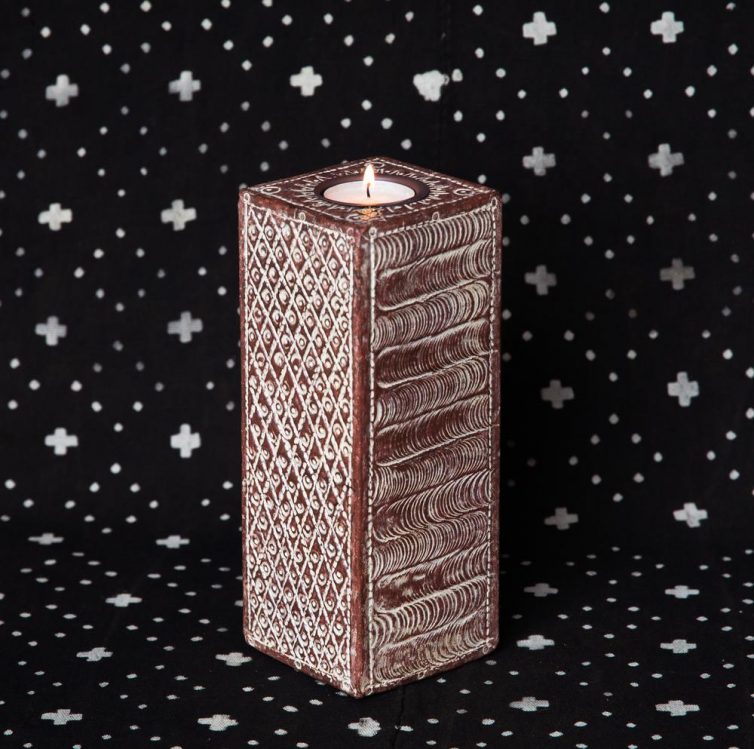 The candle holders come in different sizes.  The medium size (£36) is pictured above.  Buy it from Lola and Mawu.
Recycled Glass Items – Garden Trading
There's just something so beautiful about the texture of recycled glass.  GardenTrading.co.uk sell everything from tumblers to vases to soap dishes all crafted from this gorgeous material.  Each piece is made from 100% recycled glass and hand-blown in Europe.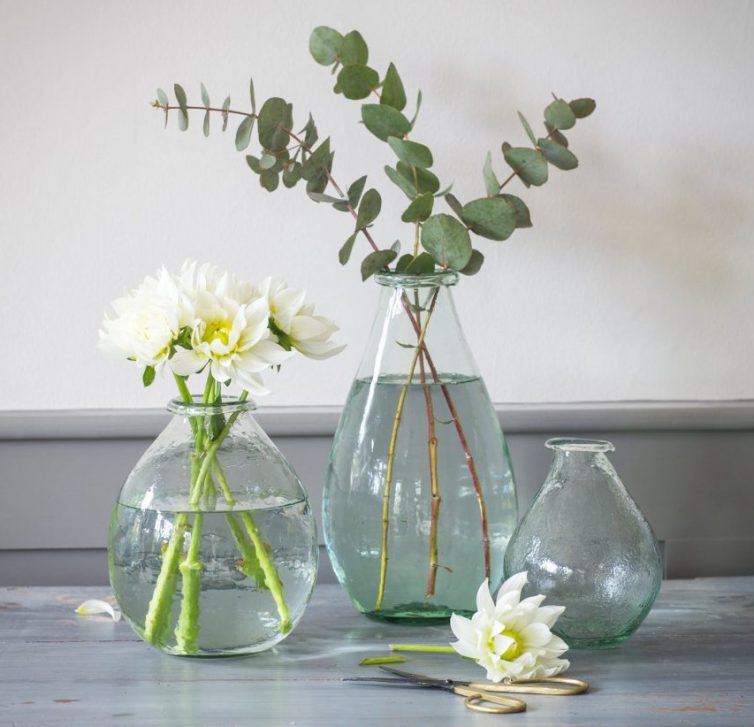 Prices begin at £7 on GardenTrading.co.uk
Eco-friendly Tablewear – Emilie O'Connor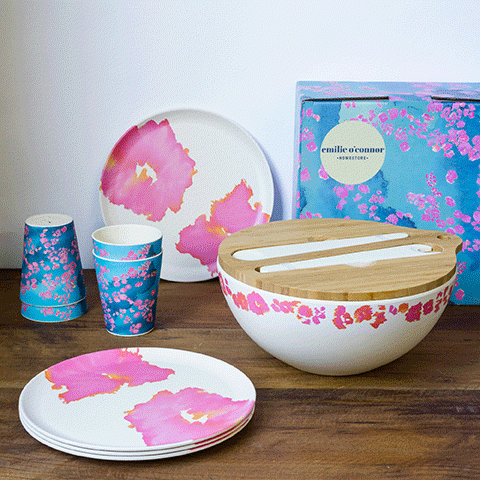 Looking for eco-friendly tableware?  Designer Emilie O'Connor creates these stunning designs from 50% bamboo, 25% cornstarch and 25% melamine resin.    Each set contains a large salad bowl with bamboo chopping board lid and servers, four plates and four cups.  The set comes packaged in cardboard too.
The tableware is made from sustainable, vegan-friendly materials that are dishwasher safe and REACH compliant.  Plus, 5% of profits from sales go to help restore The Coral Reef.
We've shown the pink set here but a few different designs are available.  Shop this set for £75 from emilieoconnorhomestore.com
Main Image By BohemiaDesign.co.uk