Working from home has a number of perks, whether it's the lack of commute or a better work-life balance. However, one you may not have considered is the ability to design a home office that's both comfortable and ergonomic.
Creating the ideal office space is vital when beginning a start-up from home; this needs to be both your base of operations as well as somewhere you can work quietly and comfortably. Your home office might even be the place where some of your first meetings are taken.
Here are 7 tips for creating a stylish and functional home office space.
Identify the best space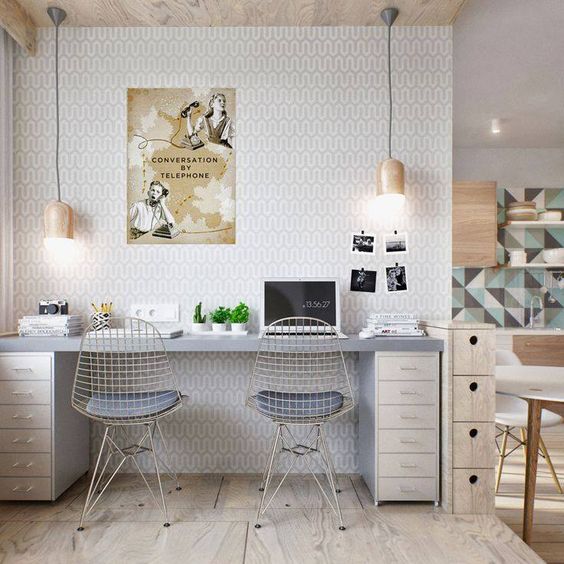 Image Source
Whilst this might sound obvious, finding the best space for your office in your home is one of the most important parts of the process. The right area will energise your work and create a positive atmosphere, while the wrong space can totally throw your workflow off-kilter.
If you've not got a lot of room, it's tempting to find a small, unfilled gap in your home that might work as an office space. Obviously a dedicated room is preferred, but if you're short on space, finding an unused corner and setting up a work zone is a great temporary solution.
If you've got a bare wall in your home, this can also be a valuable asset for creating a work space. A wall like this allows you to build upwards rather than extending wide, as you can install shelves to utilise the space in the most efficient way possible.
Embrace the light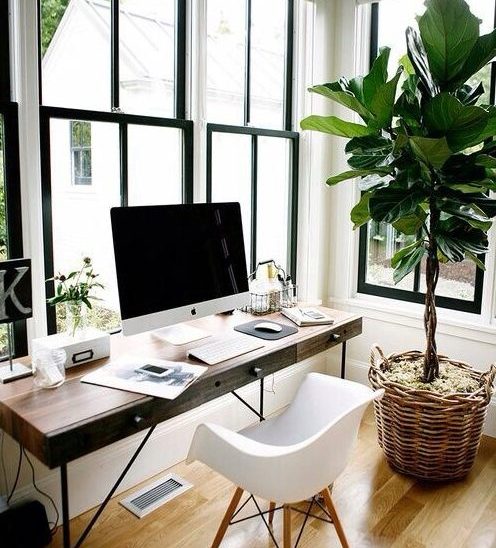 Image Source
If you have  the luxury of using a dedicated room for your home office, consider the best place to put your work station. Many will instantly put a desk in the darkest corner of the room, but it's important to utilise natural light as much as possible.
Moving your desk close to a window can work wonders – giving you the benefits of natural light as well as a good reason to turn away from your computer when you take a break.
During the darker hours of the day, it can be tempting to rely on an overhead house light, but this is not recommended due to the harsh and unwelcoming light. Investing in a few table lamps gives your office a soft, warm glow that's far more pleasant to work in.
Remember the ergonomics
Getting the ergonomics of your work space right is essential but can often be forgotten when creating a home office.. Making sure the top of your computer screen is at eye level and that your feet are planted on the floor will make working throughout the day much more comfortable and productive.
Don't skimp on the desk and chair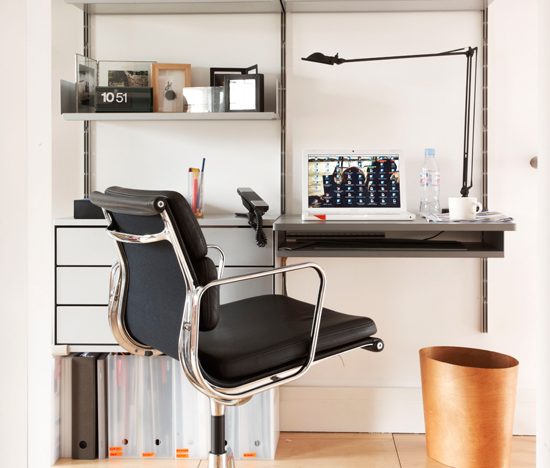 Image Source
When thinking of what to invest in, the desk and chair should be at the top of your list. Don't worry about splashing out on an office chair – you need to love the chair you're sitting in as that's where you'll be spending most of your time.
Remember, a good home office needs to be functional first and stylish second, so while it can be tempting to push for a neat design trend you've seen on Pinterest, finding a desk/chair combo that's comfortable is way more important than what it looks like.
When you shop around, you'll find it's easy enough to get something that's both stylish and perfect for work.
Get creative with storage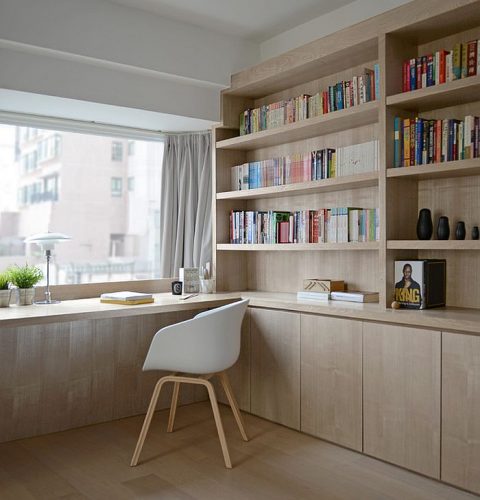 No one wants to fill their home with ugly filing cabinets, but you will need to think about storage solutions. Luckily, there are plenty of creative ways to avoid having papers everywhere, whether it's magazine-style racks or library-style display shelves.
Under-desk storage is also an ideal way to utilise the space you have without cluttering your office with storage. If you have a closet, you can adapt it with shelving, minimizing the need for storage in the actual office.
Greenery goes down well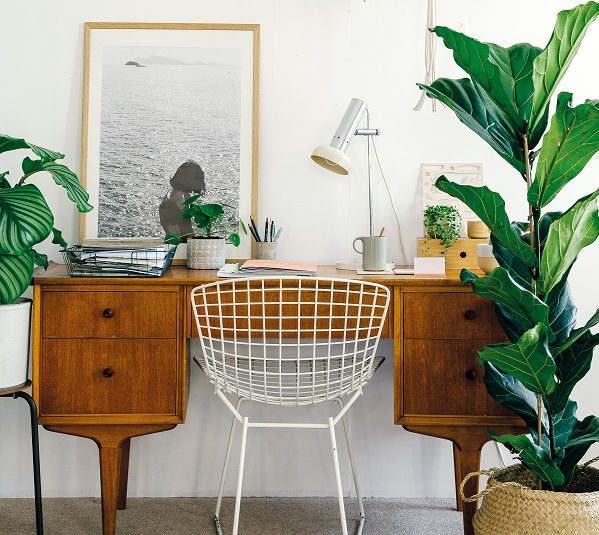 Image Source
Plants are a great finishing touch to any home office, providing extra colour and even oxygen to keep you going through the working day.
Having a plant in your office will improve the mood and atmosphere of the space if you hold meetings there and will look pleasant in the background of your Skype calls. Caring for a plant will also give you a welcome break from work every once in a while.
Create some comfort
Your office desk is for active work, but occasionally you may need a place to unwind, read, or take a tea break. A comfy chair or sofa can work as an ideal contrast to your working space and is a great way of taking advantage of working from home.
Having a 'comfort zone' in your office also works well if you're taking any meetings there or collaborating, as it gives you a welcoming space to talk business over a coffee.
Author Bio
Jeremy Carr-Smith is an expert in office logistics and runs the free resource website helpmovingoffice.co.uk to enable those moving office to plan an easy and efficient office move.
Main Image Source