Those who have an eye for exceptional interior decor know that trends come and go.
As much as we would all love to adorn our homes with the latest and most trending décor every year, keeping up with frequently changing trends can not only be exhausting, but very expensive.
That is why finding a style that has stood the test of time is so crucial to many professionals and interior designers. Cue "Moroccan décor", bold and bright with a blend of metallic accents, vibrant colours and ornate patterns, this home décor style has been around for ages and seems to never go out of style.
With our 5 tips below, all you ever need to do is make slight improvements that stay in line with this overall style!
Why choose Moroccan decor?
Moroccan furniture and decor are the perfect inspiration for anyone looking to introduce an exotic feel and look to their home. The entire theme is based on warm, coastal styles that are not only festive but vibrant and full of colour.
This kind of interior decor is as unique as it gets. There are no set rules for matching colour, balancing patterns or fabrics. It is all about earthy tones that act as a base for wonderful layers of pattern and strong accents of colour.
How to incorporate Moroccan style into your decor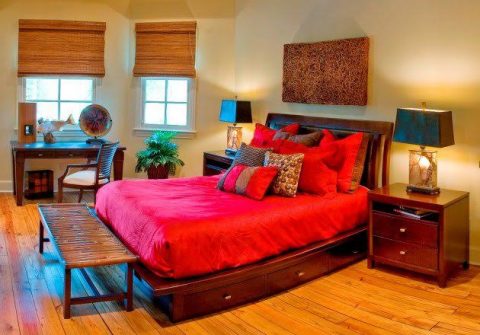 Make sure you have the right type of wood flooring
Since this style of decor has a lot to do with 'Earthy tones', it makes sense that wood flooring acts as the perfect backdrop. Whether engineered or solid, look for natural colours and grain patterns like white oak or acacia wood flooring to accentuate the overall theme. To see natural tones of engineered wood flooring check out the selection here.
Add colour to your decor
When going Moroccan, don't be afraid to add lots of vibrant colours to your interior furnishings. Use rich jewel tones that stand out and mix well with one another. You can use this awesome tool from Adobe to see what contrasting colours play well together if you don't quite have that professional eye for colour.
Stick to low furniture
The overall theme should be centered on low furniture. Things like low sofas, tables, or chairs are perfect for this style of decor. They bring out the lounge and oasis elements for which Morocco is well known.
When choosing low furniture, make sure to pick pieces that go well with bright colours to keep the vibrant theme in place as well as bring out the contrast between those pieces of furniture.
Bright colours and bold patterns are keys to pulling off this style. If replacing furniture just isn't in the cards right now, you can always use brightly coloured floor cushions to accent and add depth.
Throw in a lot of pillows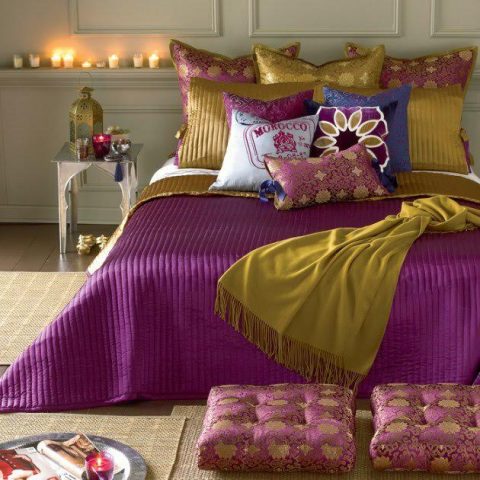 Image Source: ArchitectureArtDesigns
By throwing in a lot of brightly coloured pillows, you give your room a comfortable, yet plush and luxurious look. Feel free to mix and match these pillows as you see fit. Have them on the floor, the sofas, the bed, and even outdoor patio furniture.
Include Moroccan Style Accessories
Feel free to choose rugs that have bright colours and bold patterns. Remember, when incorporating rugs in your decor, do not feel obliged to confine their use to just the floor. With this theme, you can use bold pattern rugs as wall decorations and even as bed comforters. Add accessories like chairs, rugs, and throws in eye-catching quatrefoil and tile patterns.
When considering Moroccan furniture, Moroccan decor or any Moroccan themed style of furnishing, it is all about colour and creativity.
Main Image Source: StudioTen25