In our years of appreciating home decor, we've noticed trends are cyclical.  Elements from previous decades come and go out of fashion as designers draw inspiration from the past.  At the moment, we're seeing elements from the 1970s make a return.
Want to learn how to incorporate the 'retro' trend into your home?  Carry on reading below!
1970s home decor:
First, let's take a quick look at home decor trends throughout the decade.
Early in the 1970s, you could see interiors were influenced by the tail-end of the psychedelic sixties.  Think an eclectic mix of fun and playful designs, groovy prints and bright colours.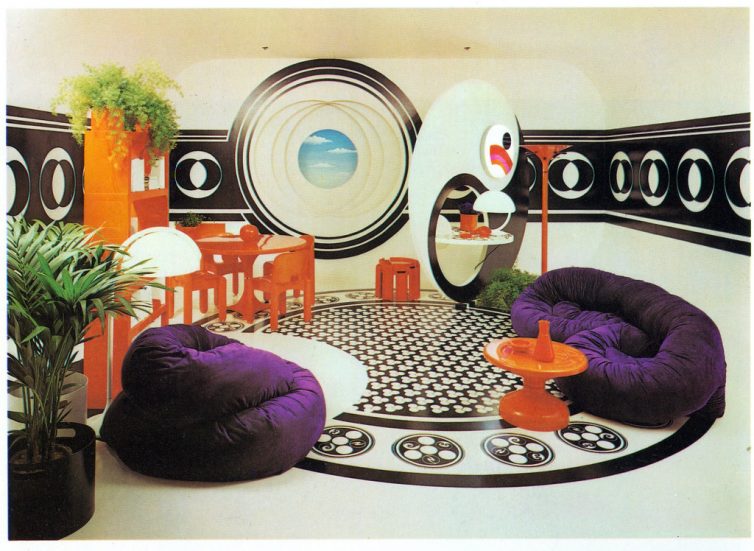 Later in the decade, care-free spirited attitudes and the bohemian lifestyle influenced designers.  We saw plenty of organic elements brought into the home. Then nearer the end of the 70s there was a big shift towards a more 'liveable' look.  Colours became more palatable by today's standards, while designs and prints became more restrained.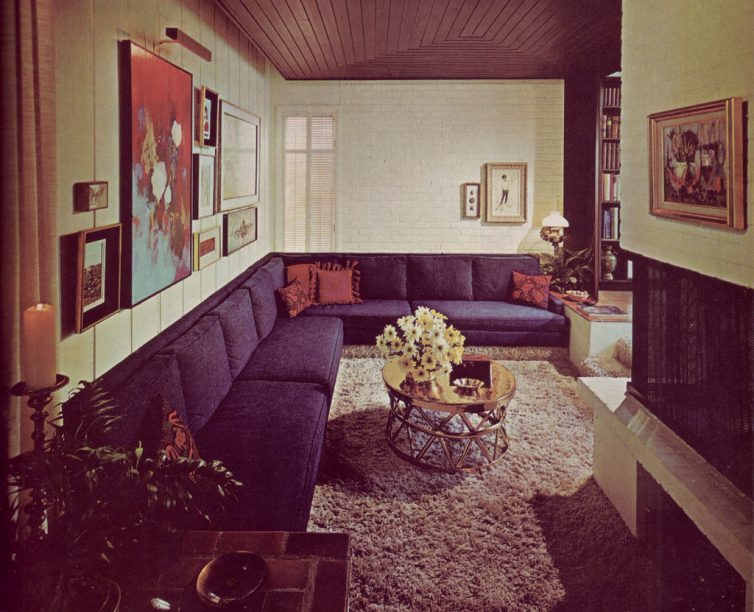 Fast forward 40 to 50 years, and we're reinterpreting many of the 70s trends with a modern twist.
Here's how to achieve the look in your home:
Carpets – The 1970s is well known for its luxurious shag carpets, which featured long, loopy piles in bright (and often eye-watering) colours, including mustard and avocado.  Bring the trend into the modern day by selecting a rug in a more modern colour palette. We love this monochrome design by benuta.co.uk (£49.95 at the time of writing).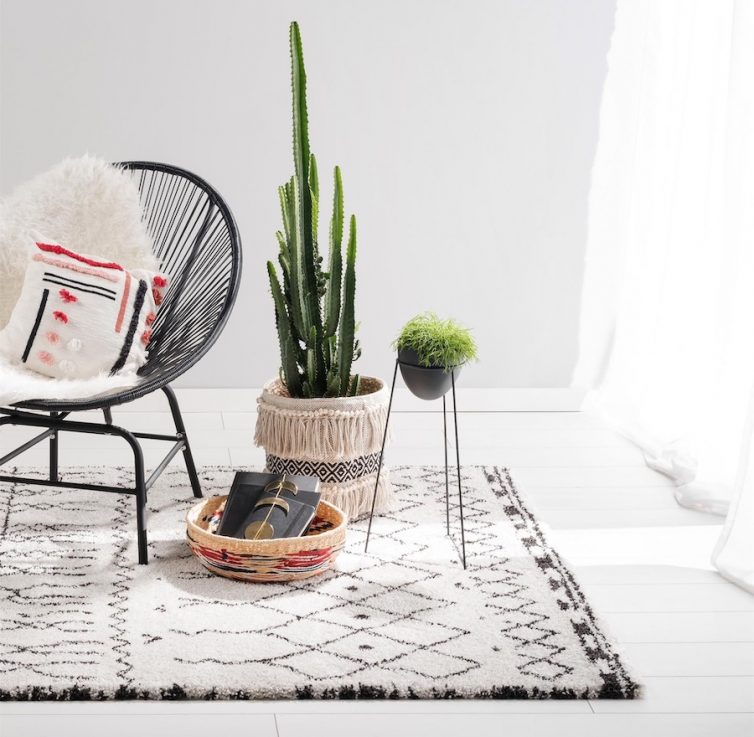 Macramé – The Macramé knotting technique was very popular in the Victorian era before it regained popularity in the 1970s. Craftspeople used the technique to make plant pot hangers, wall hangings and other furnishings throughout the decade.
Once again, the macramé trend has returned. If you don't fancy learning the textile technique, there are many pieces available to buy on the high street. Try this white cotton pouffe (bottom centre-left) from Maisons du Monde (£66).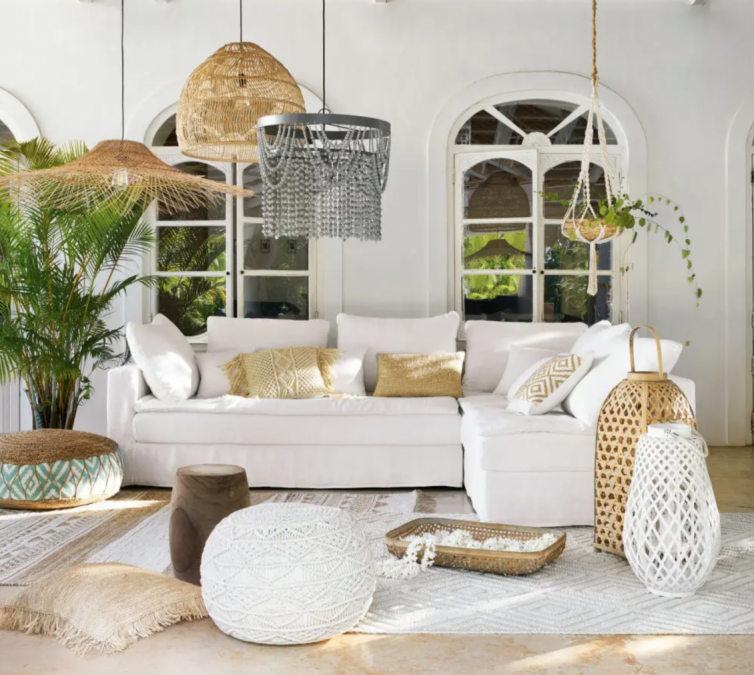 Palm Fronds – Palm prints featured heavily in the homes in the 1970s and the trend didn't pass by the stars either.  Joan Collins had fronds adorn everything from the bed linen to the walls at her Beverley Hills home in the latter half of the decade.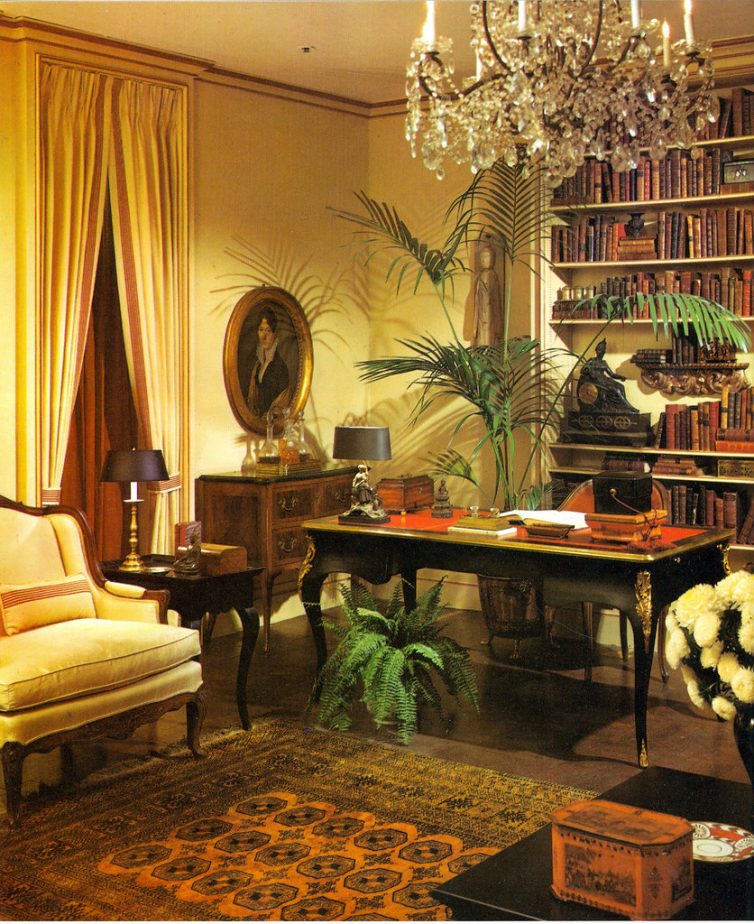 Palm leaves are another motif from the 1970s that have made a recent resurgence in home decor.  We love these metallic palm tree hooks from The Letter Room (from £9.95ea). They come in gold and copper. They're ideal for the hallway: use them to hang up coats, dog leads or keys by your front door.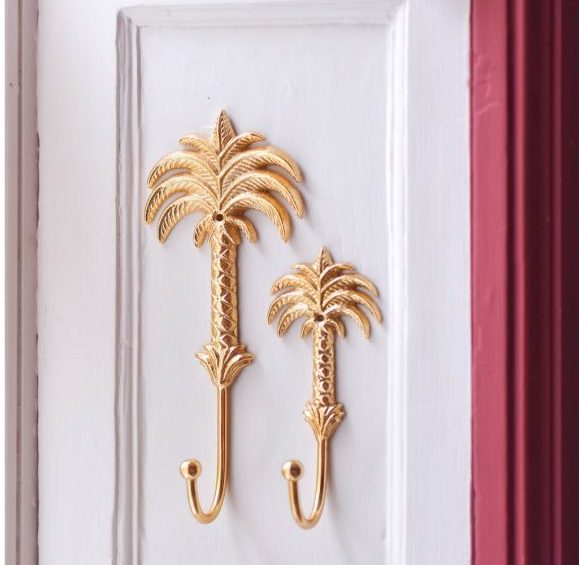 Wallpaper – The 70s was known for its bold wallpapers in an array of interesting geometric, floral and abstract prints.  Today, geometric wallpaper has once again soared in popularity, though the designs are often a little more restrained. We love the fantastic throwback design (pictured below) by the aptly named company, WallpaperFromThe70s.com.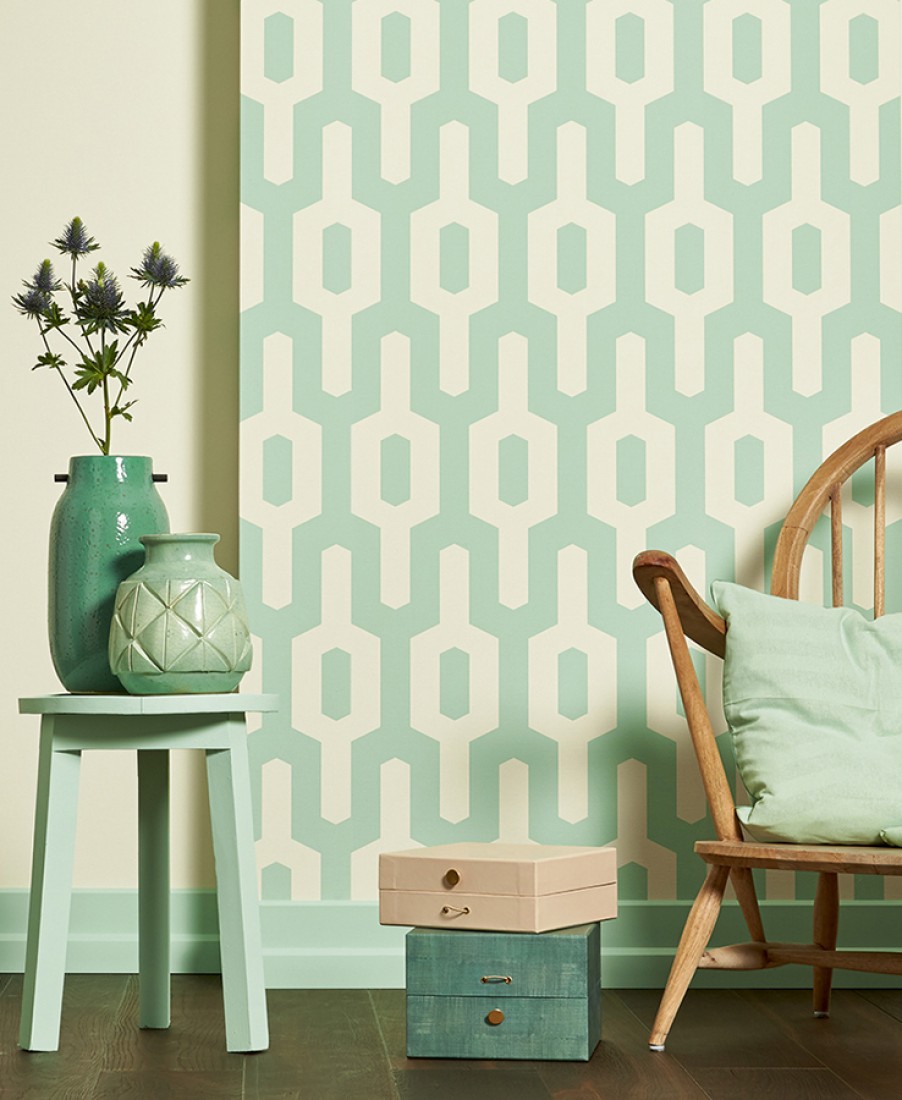 Colours – Throughout the decade, colours moved from bright and psychedelic to refined shades inspired by nature. Earthy brown, burnt orange, harvest gold and avocado green dominated.  Once again, these colours have come to the fore in home design.  In fact, shopping website ETSY tipped Burnt Orange as their colour of the year for 2019.  Don't be afraid to use this shade to decorate your home.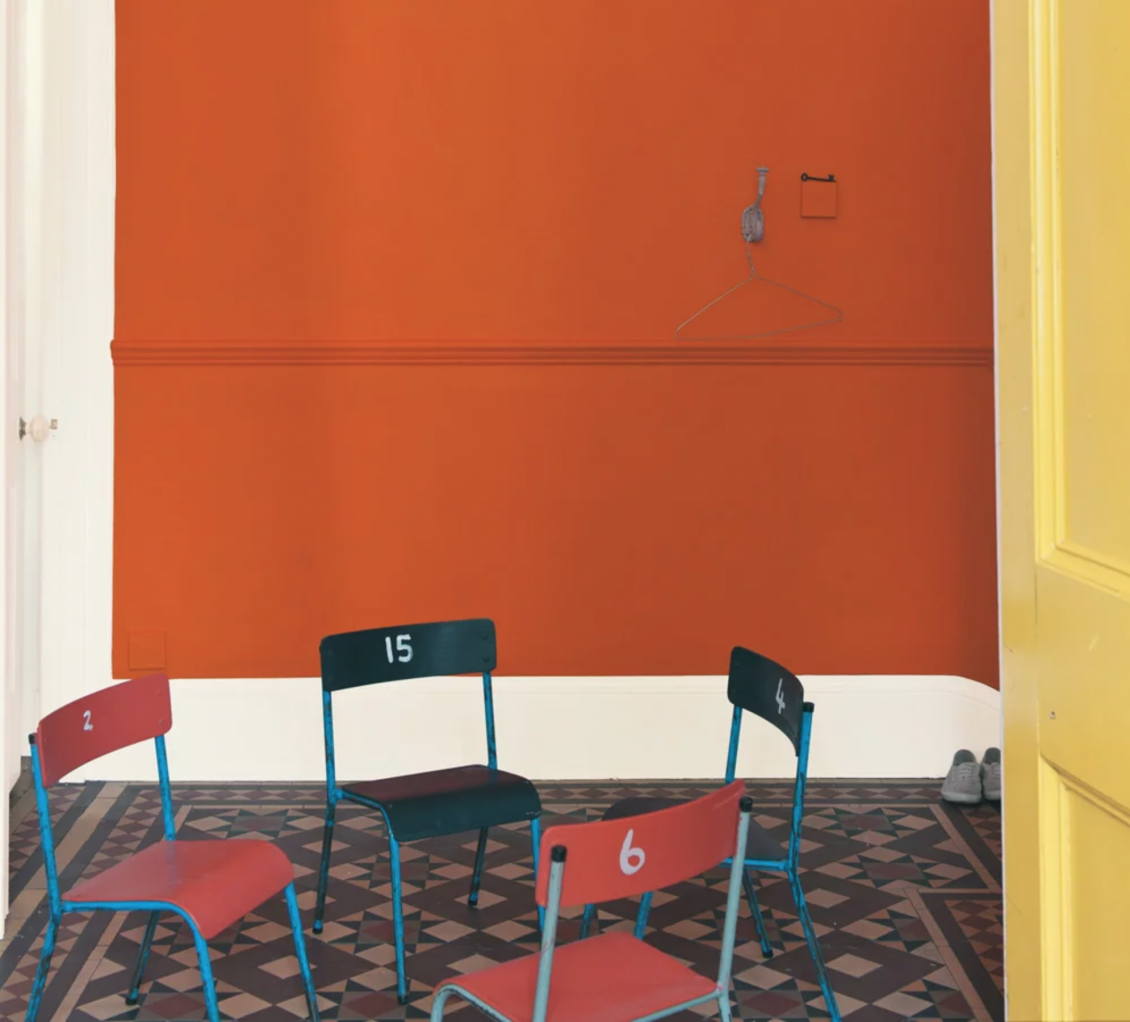 Our pick: Charlotte's Locks by Farrow & Ball.  Playful and fun, yet deep and dramatic. Use this spectacular orange to bring an authentic 1970s look to any room.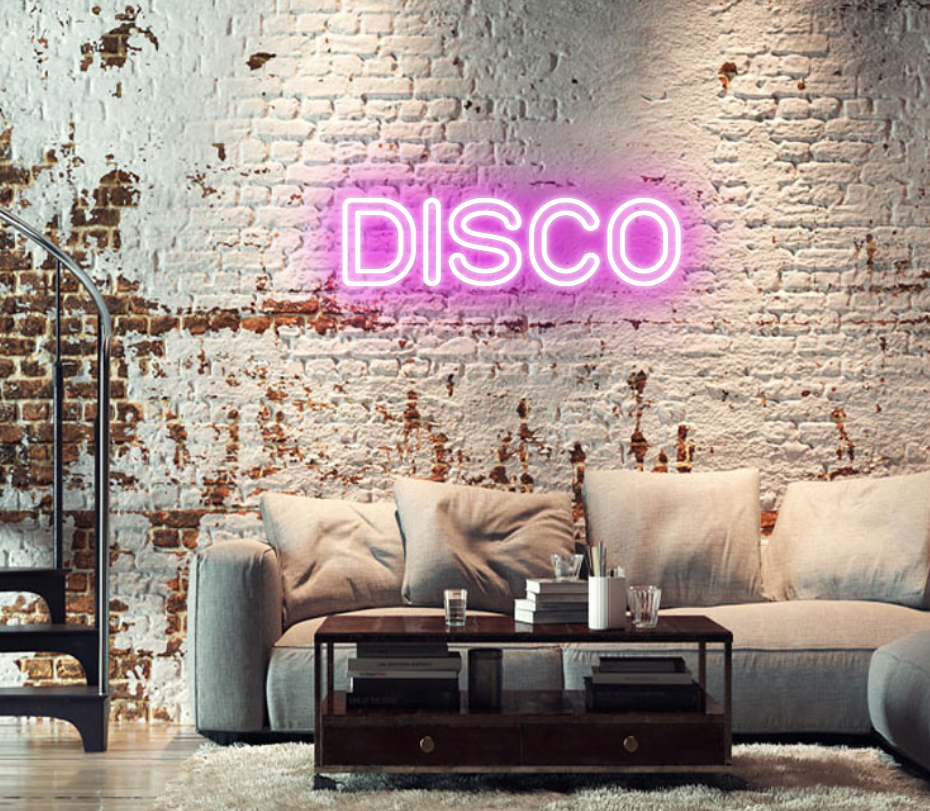 Lighting – Every decade has its special trademark when it comes to decorating the interiors of our homes. As the years go by, we see the return of custom neon lights that can be used both for marketing your business and for enhancing a room within your home to make it more interesting. Personalise it to how you want the signs to be, and there you have it, something unique and 70's inspired to add to your home or office interior.