Selling your first home can be an incredibly stressful affair if you're not 100% certain of what's expected of you or your home.
To negate these fears, this brief beginners guide has been constructed specifically to help real estate virgins. Here, you'll be taken through a list of tips and ideas that any first time seller should be able to navigate with a clear head and a calm mind.
Neutralise your décor
It's perfectly reasonable that you might have spent years subtly adding little decorative flourished to your home, which make it feel definitively like it's your home, but if you're selling up, you might (albeit sadly) have to undo a fair amount of your work. Although you might absolutely love your homes unique 'style', that doesn't mean prospective buyers will relate to it in quite the same way, in fact, it might put them off. From an outsiders perspective, it's very difficult to imagine a house ever becoming 'yours', if it's decorated in such a personal way, so as much as it might pain you do to so, a little redecoration might be in order before you put your home up on the market.
Colour scheme wise, keep everything neutral and light. Whilst white and beige might be incredibly dull, they also serve a purpose. Neutral walls act almost as a 'blank canvas', on which prospective buyers can envision their own colour schemes or wallpaper patterns. It's also important that you leave your home free of clutter. This doesn't necessarily mean 'mess' (we'll get to that next), but if there is very little free space in your home, it'll simply look smaller.
Clean up
Some viewers can be incredibly picky when it comes to cleanliness, so make sure you get the vacuum cleaner out and have a "Whip around" before every visit. This also includes dusting, which we're aware is not everyone's (or anyone's) favourite activity, but there will always be that one finicky viewer who will want to run their fingers across every surface though so don't scrimp! Also make sure all the beds are made, that the lawn has been freshly mowed (if you have a garden of course) and that there are no loose electrical cables or toys (of both the pet and child variety) lying around.
Give your home a fresh lick of paint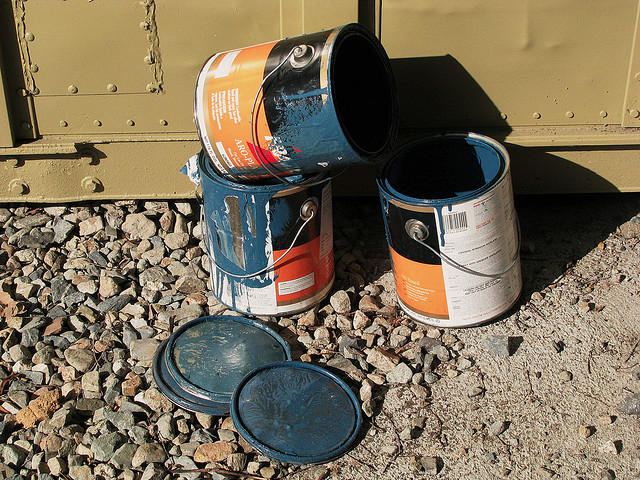 It can never hurt to give the front of your home a fresh coat of paint, but there are other simple DIY projects that can help make the most of what your home has to offer. Remember you are trying to put across the idea that this could be somebody else's home and if there are any loose floorboards, loose sections of carpeting or wonky shelves, that will be a much harder idea to inspire in your 'guests'.
Find the right estate agent
Of course it is possible to sell your own home, but most people lack the knowledge and time to do so effectively, so using an estate agent is obviously the best route to take for most people. Finding the right estate agent for your particular situation can be a fraught task indeed if you don't know where to look and what to look for. Start by asking your family and friends for recommendations and by searching the internet for reviews and forums on the best agents and agencies in the area. There are numerous online portals such as Agent Harvest, which will give you all the advice and tools you'll need to find the right agent for you. These sites will generally rank agents in your area by their sales performances and will be able to set up the first meeting between you and your potential agent for you.
Once you're finally face to face (or phone to phone) with your chosen estate agent, the first thing you're going to want to discuss is their commission. Make sure you underline that you want a 'no sale, no fee' agreement, and that the commission rate is between 1% and 2%. Any more than that is quite unreasonable. Before you sign on the dotted line, also make sure that you are contractually allowed to move to another agent or agency if you're not happy with the service and ask how much notice they require if this is the case. Don't worry about offending them, they might not expect these questions, but they will probably respect you more for asking them, and being tied into an unsuccessful selling partnership can be expensive and frustrating for both parties.
Viewings
As a first time seller, you might feel a little bit 'violated', having strangers in your home, scrutinising every nook and cranny. You really need to make peace with those feelings as soon as possible though, as your reticence might (unconsciously) be reflected in your body language, which could put off buyers. For this reason, many sellers opt not to be present during viewings, leaving it to the agent to show prospective buyers around. Nobody knows your home better than you do though, so before you completely write-off the idea, at least consider swallowing your pride and showing people around yourself.
Accepting an offer
Once you've shown a few people around and have developed a good working relationship with your estate agent, you will soon develop a routine way of making sure you home is always at its best. Interested buyers might arrange a second viewing, and this is the time to start haggling the price of the property and asking them about their own position on the property ladder. Best case scenario is that they accept your first price, don't have a home to sell themselves and are ready to move in as soon as possible, but being tied to a buyer who is stingy or is struggling to sell their own home is not something you want, so don't be afraid to be 'choosey' with whose offer you accept.
And that's it really, of course there's the matter of the contracts to sort out, but any good estate agent will be able to help you with that.
Selling your home really isn't as stressful as you might think as long as you know what you're doing. Just keep calm and remember, it's your home and your money so you're in control!
About the author: 
Linda Short sold her own first home years ago and is currently in the midst of selling her second.