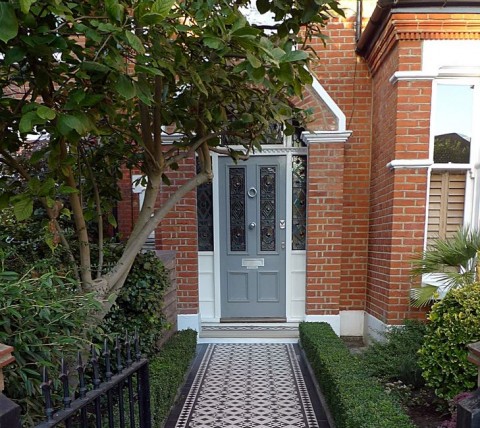 The kerb appeal of your home is important, so try out these ideas to improve the appeal of yours!
Paint Your Front Door
A lot of people forget to think about how their front door looks. But this is the first thing that people will see and look at when they arrive at your home, so it's important that it looks good. It doesn't matter what colour you decide to paint it, as long as it looks fresh and clean.
Bright colours are very popular at the moment and they can look great. A bright red door, for example, is very striking and eye-catching. Not everyone likes to choose such a risky option though, but even a solid black door can look great.
Repair Any Minor Problems
Most homes have a few problems that we ignore, but we shouldn't. It's best to repair these problems as they arise so that they don't get worse. If there are gaps in the roof, it could cause a leak or birds could move into your attic, so sort out the problem quickly.
Roof problems tend to be left untreated because we can't see up there very easily so we don't see the problems. So, you should make an effort to check the roof at least once a year.
Guttering repairs are important too because they get damaged easily, follow the link to find out more about them.
Buy a New Number for Your House
Is the number on the front of your house old, messy or wonky? This can make a home look scruffy and untidy if you don't sort it out soon. The number should do justice to your home.
If you like to keep your home looking good, the way your number is presented on the front of it should reflect this. For bigger homes that have a name rather than a number, you could have the name inscribed on a plaque.
There are lots of options. Some people buy stencils and paint the number on the front of the house for example.
Add Some Plants and Flowers
No matter how small or confined your front garden is, you should have a few interesting plants and flowers. This adds some life and vibrancy to the way your home looks from the kerb. Your house might look really dull and boring if you don't add some.
This is something that anyone can do. Even if you have no front garden, you could still use a window box filled with bright and colourful flowers. Or you could add a plant pot each side of the front door to improve its appearance.
Clean Up the Street
There's no point in the kerb appeal of your house being great if it's ruined by the appearance of the rest of the street. If your next door neighbour's front garden is messy and filled with rubbish, you could even offer to clean it up for them.
Make sure you do this in a polite way though! You should also make sure that the neighbourhood and the public spaces nearby are kept clean and tidy. The way the area as a whole looks has an impact on how your home looks.
Image Source