Doors are an essential part of any home. They offer a form of security from the outside world, and inside they help to divide various rooms within a house or flat, offering privacy when it's needed.
But there comes a time when the doors in our homes are no longer fit for purpose, or we just fancy a change of style or size for our doors. A lot of people would simply hire a skip and chuck all of their old doors in it, but a growing number of people prefer to upcycle their old doors and repurpose them, rather than having them get sent to landfill.
If you are about to give your home a bit of a door makeover soon and are wondering what to do with your old doors, here are 6 cool examples that you should check out:
---
1. Garden trellis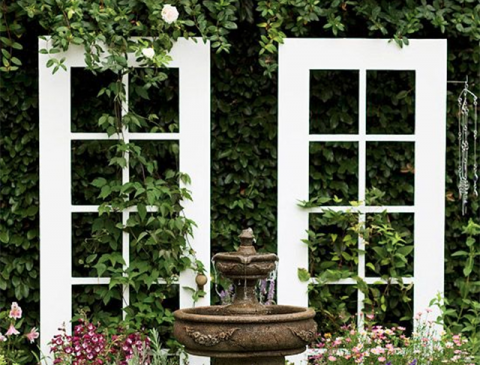 Image source: Esther Mermaid (via Pinterest).
Why pay money for some trellis from your local garden centre when you can just repurpose your old doors for the job? In this example, the glass panes have been taken out from this pair of doors, but if yours have wood paneling you could just as easily remove those too.
---
2. Sliding larder door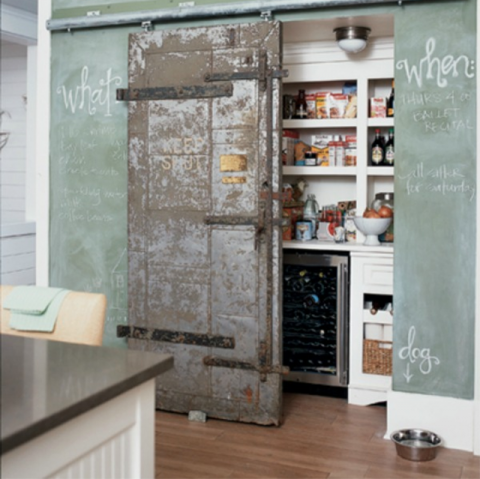 Image source: Jade Carling (via Pinterest).
A unique way to make your kitchen look a little eclectic yet save on space is by having a sliding door! In this kitchen, the sliding door is used to cover up a larder or pantry area, but you could just as easily use a sliding door for other rooms too such as tall built-in cupboards.
---
3. Shelving unit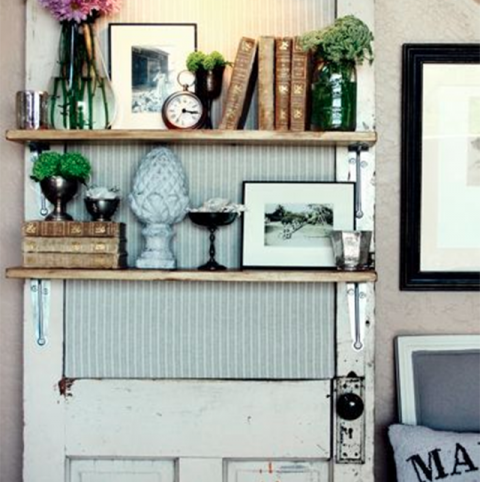 Image source: yaeno (via Pinterest).
According to Blacketts, one of the most-popular ways to upcycle an old door is to convert it into a shelving unit! This is done by simply affixing the door to the wall, and then fitting some shelves onto the door itself. In this example, the owner has gone for a 'shabby chic' look.
---
4. Picture and candle shelf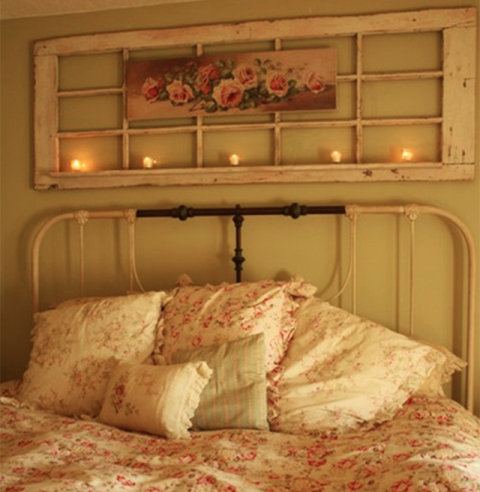 Image source: Clara ~ Found & Favour (via Pinterest).
If you have an old French door, then you could always turn it into a quaint little feature picture and candle shelf which can be fitted above your bed! It makes for a very romantic-looking boudoir, don't you agree? Again, this is another example of how shabby chic can look great in your home!
---
5. Bathroom cabinet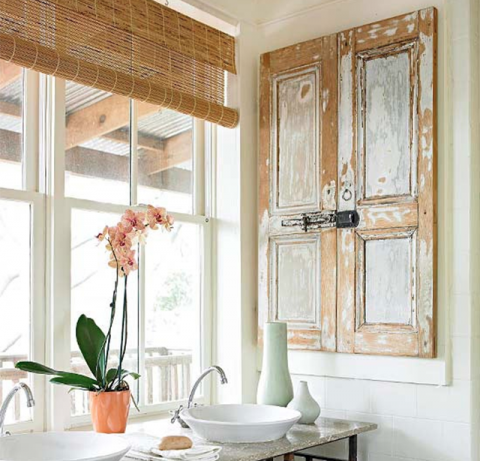 Image source: Andra Butler (via Pinterest).
In this example, the owner of this home decided to cut an old door in half horizontally and then vertically, using the top half of the door to create a set of bathroom cabinet doors by their sink area. It's very rustic-looking, but you could obviously paint your doors if you so wished.
---
6. Table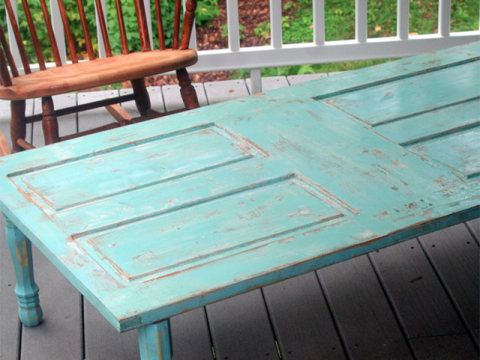 Image source: Laura Proctor (via Pinterest).
Given that a door has a large surface area, you could always lie it down flat, stick four chair legs or old balusters on it, and convert it into a table! This owner decided to use the entire door as a table, but you could chop yours in half if you've only got a small room to put it in.
---
We hope you have enjoyed our post. Please like and share!