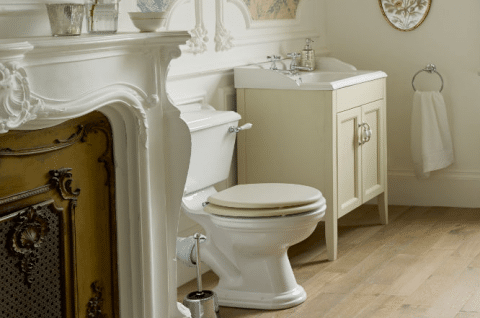 If you're planning a complete redesign of your bathroom and want the latest in style and elegance, we've uncovered some great new bathroom design ideas.
From hotel chic to roll-top baths and wonderfully wild wet rooms, here are some of the latest trends and ideas for 2017, provided by interior design specialist Lloyd Wells – working with The Bathroom Discount Centre.
Dazzle, shimmer and shine
High-gloss, light-coloured finishes that dazzle, shimmer and shine, give your bathroom a bright, spacious feel. Glossy surfaces, glass and mirrors make a huge difference in a bathroom.
The best light-capturing materials are reflective wall and bath panels, mirrored and coloured glass, and high-gloss tiles. Decorate with glossy, handle-less fitted furniture, wall-hung cabinets and extra-large panels of mirrored glass above the basin and bath.
To get the best from all these finishes, your lighting scheme needs to be carefully chosen too. Downlighters splash elegant pools of light over surfaces, while recessed LEDs, hidden behind glass, makes for a soft, diffused light, perfect for relaxing in the bath. And if you really want to push the boundaries of shimmer and dazzle, why not have a double-ended, free-standing bath with metallic exterior installed.
Vintage glamour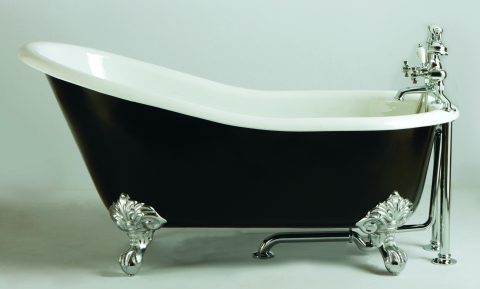 Give your bathroom a feel of vintage glamour and elegance by adding some period fittings and Art Deco furniture. Think Downton Abbey as you go about re-creating your period bathroom … think claw-feet roll-top baths and classic brass fittings.
Why not go for the real deal and look for original bathroom basins, tubs, and brassware at auction houses and salvage yards?
For floors and walls, heritage paint colours and old replica tiles are a good option. Soft blues and greens, or a modern neutral grey are the in-colours right now. For an Edwardian or Victorian bathroom, multi-coloured encaustic tiles can work well. Another good option is metro tiles with or without bevelled edges, or a typically Art Deco feel of square black-and-white tiles laid in a geometric pattern on the floor.
Go natural
If you're looking for a bathroom with some earthy elegance, the combination of natural stone and warm wood work well together. Natural materials soften the sleek lines of modern sanitary ware. Carved stone baths and basins together with slip-resistant stone floor tiles add a natural and rugged element to any bathroom.
Natural materials are wonderfully tactile, so think textured wallcoverings, elements of wood, duckboards, and ornate antique taps. Tongue and groove wood panelling is a good option for a period bathroom, while large panels of composite wood-effect tiles are perfect for a ultra-modern shower cubicle.
Add some drama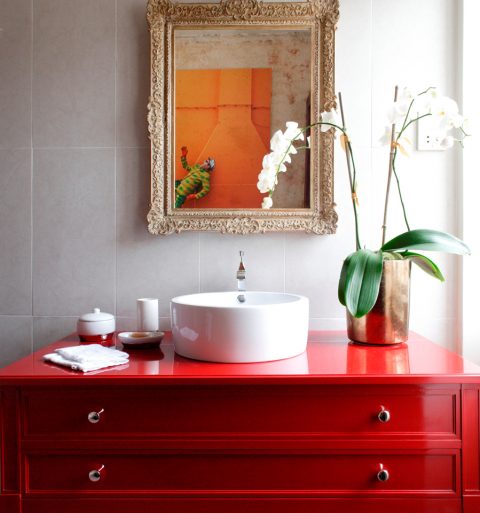 Image Source Rough Luxe Hotel
Splashes of intense colour will inject drama and life into your bathroom scheme. Pair simple sanitary ware with splashes of colour, chintzy florals and angular geometrics. Be courageous, be bold with your colour choices. This year's shades are elegant, rich aubergines, gorgeous greys and luscious deep-sea blues.
Go for an ultra-modern look with high-gloss lacquered cabinets, coloured-glass shower panels, and eye-catching, iridescent wall tiles to add glitz and glamour.
Bold colours work wonderfully in large single blocks. If your bathroom is on the small side, then paint one wall in a contrasting colour, or choose a vanity unit in a shade to create an eye-catching feature without the colour overwhelming the room.
The right choice of floor and walls tiles is absolutely crucial. Tiles come in a myriad of shapes, shades and finishes. Create your very own focal point by lining a shower cubicle by using iridescent mosaic tiles. You could also go with a bathroom floor of classic, multi-coloured encaustic tiles that should last a lifetime.
Metro tiles above the bath and basin, laid in a dramatic geometric design, are also in vogue. Even plain field tiles can provide an injection of colour and style if you mix and match them in several different, but complementary, shades.
Metallics – brass, copper and gold
Metallics are firmly back into our bathrooms, with rose gold, copper and brass, being the stars of the show. Look out for towel rails, mirror frames, taps and other fixtures in these soft metal tones that add warmth and a hint of luxury.
Wet, wet, wet, wet rooms
Never mind a man cave, what you need is a modern, indulgent, spa-like bathroom addition. So why not install a flush-to-floor walk-in shower, or a complete wet room. Although some additional building work may be required, a tanked wet room does away with the need for a raised shower tray, thus creating an exhilarating open shower experience.
With its gently sloping floors there are no trip hazards, so it's ideal for the young and old and people with mobility problems. A beautifully designed and decorated wet room is one of the must-have bathroom trends for 2017.